Reviews of silent film releases on home video.
Copyright © 1999-2018 by Carl Bennett
and the Silent Era Company.
All Rights Reserved.
The
Tong-Man
(1919)
Sessue Hayakawa is best remembered by modern film audiences as Colonel Saito, the Japanese camp commander of The Bridge on the River Kwai (1957). But in the silent era he was the most-popular male Asian actor following his star-making performance in The Cheat (1915). Hayakawa was so popular that he was able to establish his own production company to make a string of inexpensive Asian-themed films in which he was the headliner. The genre was just popular enough with audiences to support a number of these films.
There was an established tradition of audience acceptance of caucasian actors in asian roles in the silent era. It's hard to forget Richard Barthelmess as the infatuated Chinese shopkeeper in Broken Blossoms (1919) or Norma Talmadge's turn as a Chinese woman in The Forbidden City (1918). As with Marc Robbins' performance in The Tong-Man, caucasian actors only had to place their hands together chest-level in front of themselves, hunch over, and take short, shuffling steps to portray an Asian. And the prevailing attitude of film audiences of the time toward Asians is indicated in the intertitle spoken by a Chinese shopkeeper, "Him lun up Dupont, down Saclamento; you no like stop dlinkee tea?" — a pseudo accent once attributed to Japanese speakers of English.
To set the tone of the film, immediately there's a random Tong shooting in Chinatown. Then we are introduced to Luk Chan (Hayakawa), the main assassin of the Bo Sing Tong headed by Ming Tai (Marc Robbins). Shopkeeper Louie Toy refuses to pay the Bo Sing tribute money. Luk Chan is in love with Toy's daughter Sen Chee (Helen Jerome Eddy). Chan plans to make a last big score selling a huge shipment of opium and take Sen Chee to China where he will establish himself as a "merchant prince." Chan is commanded to kill Louie Toy or die himself. Given the opportunity, Chan cannot bring himself to murder the father of his bride to be. Ming Tai reveals the death decree and the hatchet man's indentity to Louie Toy, with Sen Chee overhearing, and makes his daughter to price for the life-saving information. Ming Tai then brands Chan a traitor and orders his death. Meanwhile, Ming Tai steals Luk Chan's stash of opium, and Louie Toy refuses to handover his daughter. He is knived and his daughter kidnapped. Chan rescues Sen Chee from Ming Tai and flees over the rooftops with her. Ming Tai stumbles upon their hiding place, but Chan and Sen Chee are themselves rescued. The final score: Five fatal shootings, three fatal knivings, one hatcheting, one facial lasceration, and one startled sleeper.
As a sidebar, viewers can observe an example of the evolving filmmaking techniques in The Tong-Man. In shadowy exterior street shots, the actors are seen walking into and out of the sharply-defined light of glass mirror sun reflectors. Eventually, the use of mirrors was rejected in favor of large pieces of white cardboard, which reflected a more natural and diffused light onto the actors standing in the cast shadows of a sunny day. — Carl Bennett
Grapevine Video
2007 DVD edition

The Tong-Man (1919), color-toned black & white, 60 minutes, not rated,
with The Immigrant (1917), black & white, 21 minutes, not rated.

Grapevine Video, no catalog number, UPC 8-42614-10256-1.
One single-sided, single-layered, Region 0 NTSC DVD-R disc, 1.33:1 aspect ratio image in full-frame 4:3 (720 x 480 pixels) interlaced scan MPEG-2 format, ? Mbps average video bit rate, ? kbps audio bit rate, PCM 2.0 mono sound, English language intertitles, no foreign language subtitles, chapter stops; standard DVD keepcase, $16.95 (reduced to $14.95).
Release date: February 2007.
Country of origin: USA

Ratings (1-10): video: 5 / audio: 5 / additional content: 6 / overall: 5.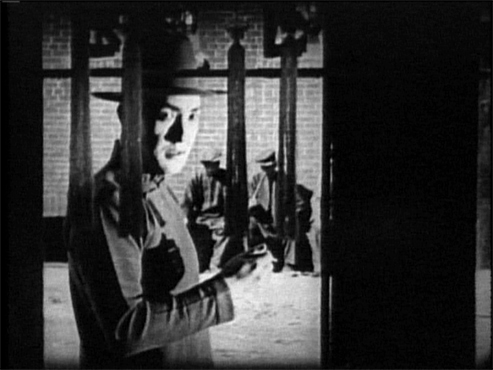 This DVD-R edition has been transferred from a good 16mm reduction print, which is a little contrasty in its greytone ranges and a little soft of image detail, but is generally well-defined enough for undistracted viewing. The transfer itself is a little coarse, but the framing is open and all intertitles will be clearly and completely displayed on all televisions.
The disc features a cobbled-together music score which shows some thought and provides a number of Asian-flavored recordings that accompanies the film well.
Altogether, this home video edition of The Tong-Man may well be the only one available for some time, and as such gives viewers the opportunity to see this rare example of Asian-themed and Haworth-produced films.
USA: Click the logomark to purchase this Region 0 NTSC DVD-R edition from Amazon.com. Your purchase supports the Silent Era website.
This Region 0 NTSC DVD-R edition is also available directly from GRAPEVINE VIDEO.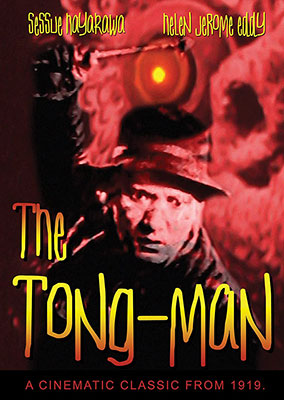 TeleVista
2009 DVD edition

The Tong-Man (1919), black & white, 47 minutes, not rated.

TeleVista, no catalog number, no UPC number.
One single-sided, single-layered, Region 0 NTSC DVD disc, 1.33:1 aspect ratio image in full-frame 4:3 (720 x 480 pixels) interlaced scan MPEG-2 format, ? Mbps average video bit rate, ? kbps audio bit rate, Dolby Digital 2.0 stereo sound, English language intertitles, no foreign language subtitles, chapter stops; standard DVD keepcase, $14.95.
Release date: 9 June 2009.
Country of origin: USA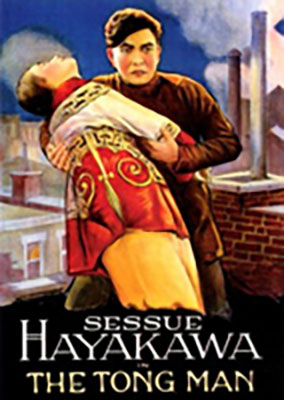 eMoviez
2009 DVD edition

The Tong-Man (1919), color-toned black & white, ? minutes, not rated.

eMoviez, no catalog number, no UPC number.
One single-sided, single-layered, Region 0 NTSC DVD-R disc, 1.33:1 aspect ratio image in full-frame 4:3 (720 x 480 pixels) interlaced scan MPEG-2 format, ? Mbps average video bit rate, ? kbps audio bit rate, Dolby Digital 2.0 stereo sound, English language intertitles, no foreign language subtitles, chapter stops; standard DVD keepcase, $19.99.
Release date: 2009.
Country of origin: USA