Reviews of silent film releases on home video.
Copyright © 1999-2017 by Carl Bennett
and the Silent Era Company.
All Rights Reserved.
Le Voyage
Imaginaire
(1926)
This fantasy drama, directed by René Clair, features Dolly Davis, Jean Börlin, Albert Préjean, Jim Gérald, Paul Ollivier, Maurice Schutz, Marguerite Madys and Yvonne Leguay.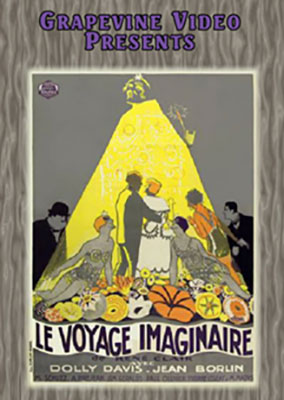 Grapevine Video
2008 DVD edition

Le Voyage Imaginaire (1926), black & white, 65 minutes, not rated,
with Cartoon Factory (1924), black & white, 9 minutes, not rated.

Grapevine Video, no catalog number, unknown UPC number.
One single-sided, single-layered, Region 0 NTSC DVD-R disc, 1.33:1 aspect ratio image in full-frame 4:3 (720 x 480 pixels) interlaced scan MPEG-2 format, ? Mbps average video bit rate, ? kbps audio bit rate, PCM 2.0 mono sound, English language intertitles, no foreign language subtitles, 6 chapter stops, standard DVD keepcase, $16.95.
Release date: 2008.
Country of origin: USA