Reviews of silent film releases on home video.
Copyright © 1999-2018 by Carl Bennett
and the Silent Era Company.
All Rights Reserved.
Whispering
Shadows
(1921)
This social drama, directed by Emile Chautard, stars Lucy Cotton and Robert Barrat, with support from Charles A. Stevenson, Philip Merivale, George Cowl, Alfred Dundas and Marion Rogers.
Originally produced in 1920, the film was released on the State Rights market in 1921.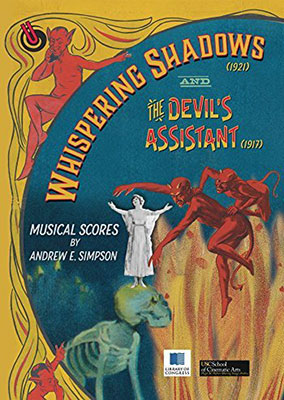 Undercrank Productions
2017 DVD edition

Whispering Shadows (1921), black & white, 68 minutes, not rated,
with The Devil's Assistant (1917), black & white and color-tinted black & white, 23 minutes, not rated.

Undercrank Productions, no catalog number, unknown UPC number.
One single-sided, single-layered, Region 0 NTSC DVD-R disc, 1.33:1 aspect ratio image in full-frame 4:3 (720 x 480 pixels) interlaced scan MPEG-2 formatformat, ? Mbps average video bit rate, ? kbps audio bit rate, Dolby Digital 2.0 stereo sound, English language intertitles, no foreign language subtitles, ? chapter stops; standard DVD keepcase, $19.95.
Release date: 17 October 2017.
Country of origin: USA
This DVD-R edition has been mastered from a preservation 28mm print, preserved by the Library of Congress.
The film is accompanied by a music score performed on theater pipe organ by Andrew E. Simpson.
| | |
| --- | --- |
| USA: Click the logomark to purchase this Region 0 NTSC DVD-R edition from Amazon.com. Your purchase supports the Silent Era website. | |