A collection of news and information pertaining to silent era films.
Copyright © 1999-2019 by Carl Bennett and the Silent Era Company.
All Rights Reserved.
The Top 100 Silent Era Films
Buster Keaton in The General (1926).
Photograph: Silent Era image collection.


What are the 100 best silent era films? We couldn't help asking that question, because we love silent films and because we are insatiable list makers. However, an effort to produce a definitive list is hampered considerably by the fact that most of the films made in the silent era have been lost to decomposition and willing destruction. It is our opinion, however, that most of the truly great films have survived due to their timeless popularity and enduring value.

The list is not limited to features exclusively. There are several short silent film masterpieces, and they are considered equally with feature films. And while our definition of the silent cinema timeline usually spans from about 1891 to 1929, we accept votes for later true silents like City Lights (1931) or Japanese or Chinese silent films from the early 1930s, for example. (We firmly judge Modern Times [1936] to be a mute sound film.) Films receiving votes must still exist somewhere and in some viewable form. Without surviving prints there is no way to validate the true value of a film, and no lost film can fairly be included on the list based solely on its reputation. We limit the list to films that were produced to be silent films exclusively (synchronized music tracks are acceptible, but part-talkies and talkies that have only survived as silents are out).

The voting continues on. The Top 100 list continues to change based on the ongoing votes that we receive. If you think the current standing results are unrealistic then send in your votes today and let's see how this list continues to shake out. Once a lesser film is on the Top 100 list the only way it can be removed is to vote it off the list. The more votes we receive for the better films, the faster the lesser films get pushed off the bottom of the Top 100 list to our Off the List tabulation.

Use the link below to e-mail your votes to us. List the films you think deserve to be included in a list of the best silent era films. No particular order is necessary, but please include the full title, the year of release, the country of its production, and the film's director (if known). Feel free to vote for as many films as you would like up to 100 films, but — remember — you can only vote once for each individual title. In the case of a tie in the number of votes, we exercise our own editorial opinion and rank the tied films accordingly.

Very few of the films on this list are unavailable on home video. Because of home video, more people have an opportunity to enjoy these silent masterpieces and can make informed judgments on each film's historic and aesthetic value.

We would like to thank the people who took a few moments to vote for their favorite silent era films over the past years, you are the ones who make this project work through your involvement. We are also working on an automated voting and tabulation process that will allow you to register online as a voter and cast your ballot. The voting would then be tabulated automatically and remain up-to-the-minute, whenever a reader pulls up the Top 100 pages. This process would do away with our current slow, labor-intensive method of list updates.

COMMENTS ON THE LATEST UPDATE: None of the rankings of the top ten films change, even with continued voting. The top ten films just continue to gain distance from the lower ranked films on the list. A few films make their first appearance on the bottom of the list (below 100), and several new films have been nominated, bringing the total number of films nominated to the list to more than 550. Rankings below the Top 100 are still quite wild, with only 2-3 votes making the difference of a jump of 10 ranks or more. We have found, not surprisingly, that the popularity of a silent era film is related to its availability on home video.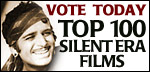 CAST YOUR VOTES HERE
Remember: Title, year, director, country.
Rank
Title
Year
Director
Country of Production
1.
The General
1926
Buster Keaton and
Clyde Bruckman
USA
2.
Metropolis
1927
Fritz Lang
Germany
3.
Sunrise
1927
F.W. Murnau
USA
4.
City Lights
1931
Charles Chaplin
USA
5.
Nosferatu
1922
F.W. Murnau
Germany
6.
The Gold Rush
1925
Charles Chaplin
USA
7.
La Passion et la mort
de Jeanne d'Arc
[The Passion of Joan of Arc]
1928
Carl Theodor Dreyer
France
8.
Das Cabinet des Dr. Caligari
[The Cabinet of Dr. Caligari]
1920
Robert Wiene
Germany
9.
Bronenosets 'Potyomkin'
[The Battleship Potemkin]
1925
Sergei M. Eisenstein
USSR
10.
Greed
1924
Erich von Stroheim
USA
11.
Die Büchse der Pandora
[Pandora's Box]
1929
G.W. Pabst
Germany
12.
The Crowd
1928
King Vidor
USA
13.
The Wind
1928
Victor Sjöström
USA
14.
Napoléon
1927
Abel Gance
France
15.
The Birth of a Nation
1915
D.W. Griffith
USA
16.
Intolerance
1916
D.W. Griffith
USA
17.
Sherlock, Jr.
1924
Buster Keaton
USA
18.
The Big Parade
1925
King Vidor
USA
19.
Safety Last
1923
Fred Newmeyer and
Sam Taylor
USA
20.
The Phantom of the Opera
1925
Rupert Julian
USA
21.
Broken Blossoms
1919
D.W. Griffith
USA
22.
Der letzte Mann
[The Last Laugh]
1924
F.W. Murnau
Germany
23.
The Kid
1921
Charles Chaplin
USA
24.
Steamboat Bill, Jr.
1928
Charles F. Reisner
USA
25.
Ben-Hur: A Tale of the Christ
1925
Fred Niblo
USA
26.
The Thief of Bagdad
1924
Raoul Walsh
USA
27.
Flesh and the Devil
1927
Clarence Brown
USA
28.
Our Hospitality
1923
Buster Keaton and
John G. Blystone
USA
29.
Wings
1927
William A. Wellman
USA
30.
Chelovek s kinoapparatom
[Man With the Movie Camera]
1929
Dziga Vertov
USSR
31.
Nanook of the North
1922
Robert J. Flaherty
USA
32.
Faust
1926
F.W. Murnau
Germany
33.
Way Down East
1920
D.W. Griffith
USA
34.
Häxan
[Witchcraft Through the Ages]
1922
Benjamin Christensen
Sweden
35.
Das Tagebuch einer Verlorenen
[The Diary of a Lost Girl]
1929
G.W. Pabst
Germany
36.
The Unknown
1927
Tod Browning
USA
37.
The Cameraman
1928
Edward Sedgwick
USA
38.
The Circus
1928
Charles Chaplin
USA
39.
Show People
1928
King Vidor
USA
40.
Un chien Andalou
[The Andalusian Dog]
1928
Luis Buñuel and
Salvador Dali
France
41.
The Hunchback of Notre Dame
1923
Wallace Worsley
USA
42.
Dr. Mabuse: Der Spieler
[Dr. Mabuse: The Gambler]
1922
Fritz Lang
Germany
43.
The Four Horsemen of the Apocalypse
1921
Rex Ingram
USA
44.
The Sheik
1921
George Melford
USA
45.
Die Nibelungen
(including Siegfried and Kriemhilds Rache
[Kriemhild's Revenge])
1924
Fritz Lang
Germany
46.
The Freshman
1925
Sam Taylor and
Fred Newmeyer
USA
47.
The Mark of Zorro
1920
Fred Niblo
USA
48.
Tol'able David
1921
Henry King
USA
49.
He Who Gets Slapped
1924
Victor Sjöström
USA
50.
Girl Shy
1924
Fred Newmeyer and
Sam Taylor
USA
51.
The Wedding March
1928
Erich von Stroheim
USA
52.
The Man Who Laughs
1928
Paul Leni
USA
53.
The Lodger
1926
Alfred Hitchcock
England
54.
Seven Chances
1925
Buster Keaton
USA
55.
The Last Command
1928
Josef von Sternberg
USA
56.
Foolish Wives
1922
Erich von Stroheim
USA
57.
Orphans of the Storm
1921
D.W. Griffith
USA
58.
Sparrows
1926
William Beaudine
USA
59.
The Navigator
1924
Buster Keaton and
Donald Crisp
USA
60.
Zemlya
[Earth]
1930
Aleksandr Dovzhenko
USSR
61.
Tabu
1931
F.W. Murnau and
Robert J. Flaherty
USA
62.
Les Vampires
1915-16
Louis Feuillade
France
63.
The Student Prince in Old Heidelberg
1927
Ernst Lubitsch
USA
64.
Beggars of Life
1928
William A. Wellman
USA
65.
My Best Girl
1927
Sam Taylor
USA
66.
Cops
1922
Buster Keaton and
Eddie Cline
USA
67.
Der Golem
[The Golem]
1920
Paul Wegener
Germany
68.
Le Voyage dans la lune
[A Trip to the Moon]
1902
Georges Méliès
France
69.
The Son of the Sheik
1926
George Fitzmaurice
USA
70.
7th Heaven
1927
Frank Borzage
USA
71.
It
1927
Clarence Badger
USA
72.
The Lost World
1925
Harry O. Hoyt
USA
73.
The Kid Brother
1927
Ted Wilde and J.A. Howe
USA
74.
The Immigrant
1917
Charles Chaplin
USA
75.
Queen Kelly
1928
Erich von Stroheim
USA
76.
Oktiabr
[October]
1928
Sergei M. Eisenstein
USSR
77.
Cabiria
1914
Giovanni Pastrone
Italy
78.
Robin Hood
1922
Allan Dwan
USA
79.
The Docks of New York
1928
Josef von Sternberg
USA
80.
Stachka
[Strike]
1924
Sergei M. Eisenstein
USSR
81.
The Great Train Robbery
1903
Edwin S. Porter
USA
82.
Der müde Tod
[Destiny]
1921
Fritz Lang
Germany
83.
Speedy
1928
Ted Wilde
USA
84.
Sadie Thompson
1928
Raoul Walsh
USA
85.
Tess of the Storm Country
1922
John S. Robertson
USA
86.
A Woman of Paris
1923
Charles Chaplin
USA
87.
Dr. Jekyll and Mr. Hyde
1920
John S. Robertson
USA
88.
The Last of the Mohicans
1920
Maurice Tourneur and Clarence Brown
USA
89.
The Unholy Three
1925
Tod Browning
USA
90.
Mat
[Mother]
1926
Vsevolod I. Pudovkin
USSR
91.
The Cheat
1915
Cecil B. DeMille
USA
92.
Variété
[Variety]
1925
E.A. Dupont
Germany
93.
Die Freudlose Gasse
[The Joyless Street]
1924
G.W. Pabst
Germany
94.
Big Business
1929
James W. Horne
USA
95.
The Iron Mask
1929
Allan Dwan
USA
96.
The King of Kings
1927
Cecil B. DeMille
USA
97.
The Iron Horse
1924
John Ford
USA
98.
The Penalty
1920
Wallace Worsley
USA
99.
Stella Maris
1918
Marshall Neilan
USA
100.
Underworld
1927
Josef von Sternberg
USA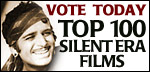 CAST YOUR VOTES HERE
Remember: Title, year, director, country.