A collection of news and information pertaining to silent era films.
Copyright © 1999-2018 by Carl Bennett and the Silent Era Company.
All Rights Reserved.
The 1999 Reconstruction of Greed (1924)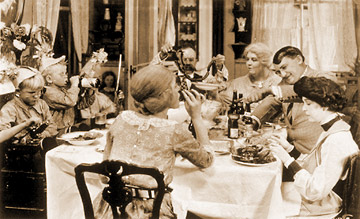 On December 5, 1999, Turner Classic Movies hosted the television premiere of the 1999 reconstruction of Erich von Stroheim's 1924 masterpiece, Greed. The presentation commemorated the 75th anniversary of the film's original premiere.
The reconstructed 239 minute film, which premiered at the Telluride Film Festival on 4 September 1999, features a restructured continuity based on von Stroheim's final working script of 30 March 1923. Missing scenes were reconstructed from surviving film stills and are narrated by intertitle passages from Frank Norris' 1899 novel, McTeague, upon which the film is based. Existing scenes were expanded, with new intertitles based on the von Stroheim continuity. The film's credits noted that the music score was written, arranged and conducted by Robert Israel, and was recorded in Prague. The reconstruction was produced by Rick Schmidlin. The film also was shown at the Venice Film Festival on 8 September 1999. Other festival appearances were slated for Toronto and Sacile.
No new motion picture footage has been included in this expanded narrative reconstruction.
The home video version of Greed, released by MGM/UA Home Video, ran 133 minutes. That edition was produced for video by David Gill and Kevin Brownlow for Thames Television and featured an original score by Carl Davis.
Our understanding of this compromised masterpiece has been broadened by the inclusion of a substantial amount of the story adaptation planned by Erich von Stroheim. Characters and plot lines have been restored. The reinstated plot thread involving Maria, the Mexican housekeeper, and the greedy junk dealer she marries is extremely important in amplifying the film's theme and adding to its depth.
Our opinion of the reconstruction is overwhelmingly favorable. While we may yet harbor the hope for a miracle and witness the discovery of some or all of the excised footage from Greed, we feel that this narrative reconstruction greatly aids the viewer's appreciation and understanding of von Stroheim's original directorial intent.
The reconstruction was rebroadcast on TCM on 5 June 2000. Early plans had it slated to be shown on PBS television stations in the United States in 2000.
The reconstruction was released on VHS videotape by Warner Brothers Home Video in September 2000.
Read more about the history of the reconstruction at Michael Mills' website, Greed: von Stroheim's Silent Movie Classic.