A collection of news and information pertaining to silent era films.
Copyright © 1999-2018 by Carl Bennett and the Silent Era Company.
All Rights Reserved.
Frame enlargements and photograph:
courtesy The Serial Squadron.




The Serial Squadron Recovers
Lost Silent Era Nitrate Films

Late in September 2003, members of The Serial Squadron, the Internet's serial cliffhanger fan club, became aware of a cache of 35mm nitrate prints being stored in the garage of a former theater projectionist in his 90s who recently moved to an assisted-care facility. The Squadron acted swiftly to acquire the prints from the memorabilia dealers who had discovered the cache. The recovery of the cache of nitrate film reels is a historically-important find for a number of reasons.

Among the reels recovered was a nearly complete set of prints from the presumed lost serial The Masked Rider (1919), starring Harry Myers and Ruth Stonehouse. The serial is a western, which appears to be set in Mexico, and is of high interest to cinema fans as it contains one of Boris Karloff's earliest appearances in films. Some of the serial's reels have been lost to decomposition due to the poor storage conditions, but the surviving reels feature color-toning and great image detail.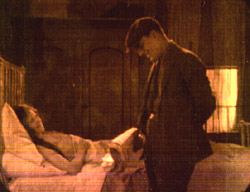 Also recovered was a four-reel abridgement of the Lon Chaney film The Light in the Dark (1922), which is better known under its rerelease title The Light of Faith. It is unknown whether this recently-discovered abridgement, which is titled The Light of Faith in the recovered print, contains footage that is not in the George Eastman Museum's recent reconstruction of the film.
All of the recovered reels of film are 35mm nitrate, and many of them are color-toned. The storage conditions were less than ideal, and all of the storage cans are in an extremely dirty state. Some prints have developed a vinegar smell, indicating various stages of decomposition. A few of the reels have serious problems, but none of the inspected reels have become stuck together so it is hoped that all of the surviving reels may be restorable.
The Serial Squadron is currently in possession of 21 of The Masked Rider's original 30 reels. More reels from the serial are expected to be received by the group early in October. Episodes 2, 4-9, and 12 are complete. Episodes 3, 10, and 13-15 are missing a reel. The print is color-toned in several hues, including red, blue and amber. A few reels in the cache (possibly reels from the serial) had decomposed into an acidic "bubbly brown goo" and eaten through their cans and into the can containing a reel from chapter 13. The film print was covered in a red dust, "which is either rust or nitric acid dust or a mixture of both," but the reel is thought to be salvageable.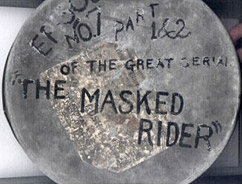 Among the other silent era reels recovered in the cache were a black & white print of Easy Payments (1913), a color-toned Felix the Cat cartoon Felix Finds 'em Fickle (1924), the Stoll production Dick Turpin's Ride to York (1922), the second reel of a 1947 rerelease print of the Ben Turpin comedy When a Man's a Prince (1926), the Van Beuren cartoon Wooden Money (1929), plus an unknown film Birth of the Earth, which was directed and edited by William Ruby. Also recovered was one reel from the Tom Tyler feature Fast Bullets (1936), a reel marked "Betty Boop" with a shot of a live ballerina at the end, and a reel labelled "Last Reel of Western Feature."