People active in the silent era and people who keep the silent era alive.
Copyright © 1999-2019 by Carl Bennett and the Silent Era Company.
All Rights Reserved.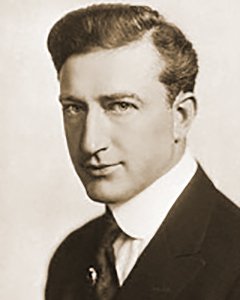 Photograph: Silent Era image collection.
Francis X. Bushman
Born 10 January 1883 in Baltimore, Maryland, USA, as Francis Xavier Bushman.
Died 23 August 1966 in Pacific Palisades, California, USA, of a heart attack.
Married Josephine Fladune; son, art director Bruce Bushman; daughter, Virginia Bushman; daughter, Lenore Bushman; daughter, Josephine Bushman; son, actor Ralph Bushman (Francis X. Bushman Jr.); divorced.
Married actress Beverly Bayne, 29 July 1918; son, Richard Stansbury Bushman; divorced, 2 June 1925.
Married Norma Emily Atkins; until her death, 1956.
Married Ivy Millicent Richardson, 1956; [?] until Francis' death?
Grandfather of actor Pat Conway.
References: Website-IMDb.