People active in the silent era and people who keep the silent era alive.
Copyright © 1999-2018 by Carl Bennett and the Silent Era Company.
All Rights Reserved.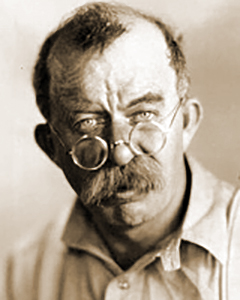 Photograph by Eugene Robert Richee;
Silent Era image collection.
Chester Conklin
Born 11 January 1886 in Oskaloosa, Iowa, USA, as Chester Cooper Conklin.
Died 11 October 1971 in Van Nuys, California, USA.
Chester Conklin began his career as a vaudeville comedian, and while he began film work in 1913 for Majestic, he soon found his long-term home at The Keystone Film Company. Chiefly remembered for his short comedy work there — where he elaborated on his screen persona, Walrus — Conklin also appeared in a number of well-known feature films, including Anna Christie (1923), Greed (1924), Gentlemen Prefer Blondes (1927), The Virginian (1929), Modern Times (1936), The Great Dictator (1940) and The Palm Beach Story (1942).
Chester Conklin appeared in his last film in 1966.
References: Website-IMDb.