People active in the silent era and people who keep the silent era alive.
Copyright © 1999-2018 by Carl Bennett and the Silent Era Company.
All Rights Reserved.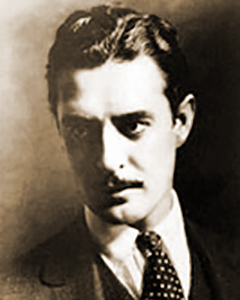 Photograph: Silent Era image collection.
John Gilbert
(same as Jack Gilbert)
Born 10 July 1897 in Logan, Utah, USA, as John Cecil Pringle.
Died 9 January 1936 in Los Angeles, California, USA, of heart failure.
Married Olivia Burwell, 1917; divorced, 1922.
Married actress Leatrice Joy, 1922 in Tiajuana, Mexico; daughter, actor and writer Leatrice Gilbert Fountain, born September 1924; divorced, 1924.
Married actress Ina Claire, 1929; divorced, 1931.
Married actress Virginia Bruce, 1932; divorced, 1934.
John Gilbert was born to parents in show business, with a mother who was a stage actress and a father a producer for stock companies. The young Jack Gilbert spent much of his childhood in theatres rather than in school or playing with other children. When his mother died at 15, his stepfather sent Jack to San Francisco to fend for himself. After a series of oddjobs, circa 1915, Gilbert began working for the Thomas Ince studio at a number of studio crew jobs. Noticed at the studio by actor William S. Hart, Gilbert was given an extra role in Hell's Hinges (1916). Gilbert worked for Jesse D. Hampton Productions in 1919.
While still married, Gilbert met actress Leatrice Joy, whom he would marry when his divorce was final. Gilbert became a contract player for Fox Film Corporation. After seeing Gilbert in Cameo Kirby (1923), executive Irving Thalberg coaxed John in 1924 to join Metro-Goldwyn Pictures Corporation, which would soon become Metro-Goldwyn-Mayer Pictures Corporation.
References: Website-IMDb.