People active in the silent era and people who keep the silent era alive.
Copyright © 1999-2018 by Carl Bennett and the Silent Era Company.
All Rights Reserved.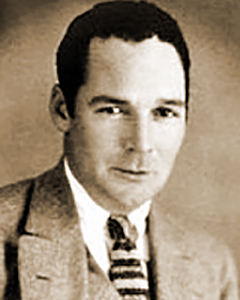 Photograph: Silent Era image collection.
Walter Miller
Born 9 March 1892 in [?] Dayton, Ohio, USA, as William Corwin Miller?
Died 30 March 1940 in Hollywood, California, USA, of a heart attack.
Walter Miller began motion picture work at Reliance Motion Picture Corporation in 1911, and made one known film for Rex Film Company in 1912. Miller soon began working at Biograph Company in 1912, appearing in films directed by D.W. Griffith. Miller continued at Biograph after Griffith departed.
Over the years Miller's leading man status faded, but he settled into leading and major supporting roles in serials for distribution by Pathé Exchange, Incorporated — many of them with costar Allene Ray. Miller remained busy throughout his film career, appearing in more than 250 short films, feature films and film serials.
Miller died working on a Republic Pictures set in 1940, appearing uncredited in a Gene Autry western.
Confusion between Walter Miller and W. Chrystie Miller is slightly compounded by the former being sometimes known as Walter C. Miller and the latter sometimes being known as W.C. Miller, and by both of them appearing in Biograph films for D.W. Griffith and other directors in 1912-1913. Website-IMDb and Website-Wikipedia have suspect and cross-pollinated information that adds to the confusion.
References: Website-IMDb.