People active in the silent era and people who keep the silent era alive.
Copyright © 1999-2018 by Carl Bennett and the Silent Era Company.
All Rights Reserved.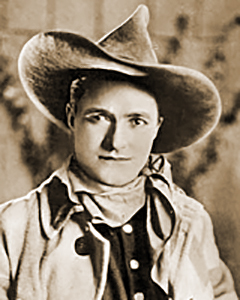 Photograph: Silent Era image collection.
Tom Mix


Born 6 January 1880 in Mix Run, Pennsylvania, USA, as Thomas Hezikiah Mix.
Died 12 October 1940 in Florence, Arizona, USA, of injuries sustained in an automobile accident.
Married Grace I. Allin, 18 July 1902; annulled, 1903.
Married Kitty Jewel Perrine, 1905; divorced, 1906.
Married Olive Stokes, 1907; daughter, Ruth Mix; divorced, 1917.
Married actress Victoria Forde, 1918; daughter, Thomasina Mix; divorced, 1930.
Married Mabel Hubbard Ward, 1932; until Tom's death, 12 October 1940.
References: Website-IMDb.