People active in the silent era and people who keep the silent era alive.
Copyright © 1999-2018 by Carl Bennett and the Silent Era Company.
All Rights Reserved.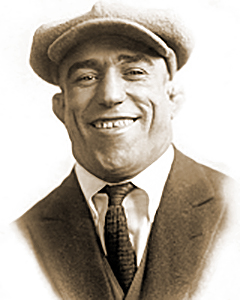 Photograph: Silent Era image collection.
Bull Montana
Born 16 May 1887 in Vogliera, Italy, as Luigi Montagna.
Died 24 January 1950 in Los Angeles, California, USA.
Married Mary Mathews; divorced, 1931.
Bull Montana began his film career under the auspices of Douglas Fairbanks, in 1917. In 1922, Montana signed a contract with Robertson-Cole Company for up to $1,000 a week. Among his most famous film roles is as the ape man in The Lost World (1925).
Montana ended his motion picture career, of more than 80 films, in 1937.
References: Screenland-192204 p. 7 : Website-IMDb.