People active in the silent era and people who keep the silent era alive.
Copyright © 1999-2018 by Carl Bennett and the Silent Era Company.
All Rights Reserved.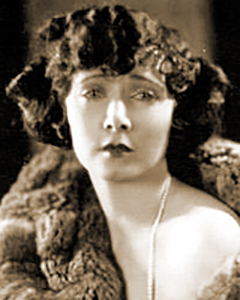 Photograph: Silent Era image collection.
Mae Busch
Born 18 June 1891 (some sources list 20 January 1895 and 1897) in Melbourne, Victoria, Australia, as Annie May Busch.
Died 19 April 1946 in Woodland Hills, California, USA, of pneumonia.
Aunt of actress Brenda Scott.
Married actor Francis McDonald, 12 December 1915; divorced, 1922.
Married John Earl Cassell, 30 June 1926; divorced, 1929.
Married Thomas C. Tate, 1936; until Mae's death, 19 April 1946.
Mae Busch was nine years old when her parents moved to the USA. She made her motion picture debut for American Film Manufacturing Company, Incorporated, in The Agitator (1912). Mae was injured in a diving accident during the production of The Water Nymph (1912), and returned to New York, New York, where she recouperated and later returned to stage work. In 1915, Mae moved to Hollywood to revive her film career.
The majority of Mae Busch's film credits date to the 1920s, where she worked for Hal Roach Studios, Incorporated, among others.
References: Website-IMDb.