People active in the silent era and people who keep the silent era alive.
Copyright © 1999-2018 by Carl Bennett and the Silent Era Company.
All Rights Reserved.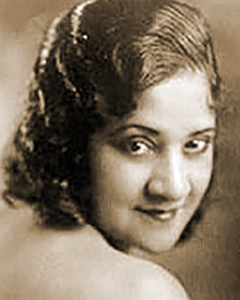 Photograph: Silent Era image collection.
Evelyn Preer
Born 16 July 1896 in Vicksburg, Mississippi, USA.
Died 19 November 1932, in Los Angeles, California, USA of double pneumonia.
Married actor Edward Thompson, 1924; daughter, Edeve Thompson, born April 1932.
Had she not died prematurely in 1932, the talented Evelyn Preer might have been the much-needed Afro-American 'crossover' leading lady and icon on Broadway and Hollywood. Given the racial climate and restrictions on minority actors, the light-complexioned Evelyn Preer nonetheless emerged as a pioneer black woman in race film and dramatic theatre.
Following her father's death, Preer (née Jarvis) and her mother migrated to Chicago where she completed grammar and high school. Minstrel shows and vaudeville provided her early training before beginning her professional association with the father of Afro-American cinema, Oscar Micheaux, in 1918. Preer costarred with Charles D. Lucas and Iris Hall in Micheaux's debut effort, The Homesteader (1919). As his premier leading lady, Micheaux promoted her with personal appearance tours and star-making publicity.
In her only surviving Micheaux film, Within Our Gates (1920), Preer plays the beleaguered Sylvia Landry, a dedicated Afro-American schoolteacher who providentially meets and appeals to a wealthy Boston socalite to save a Southern black school from closing. The sympathetic white patroness, despite protests from a Southern matron, donates $50,000 instead of the requested $5,000 to Sylvia's school. Later, Armand Girdlestone (Grant Groman), a white plantation owner molests the mixed-heritage Sylvia. The revelation of a scar on Sylvia's chest saves her from Girdlestone's attempted sexual assault. The birthmark on the adopted Sylvia identified her as his biological daughter. Preer's subsequent Micheaux films include The Brute (1920), The Gunsaulus Mystery (1921), Deceit (1923), Birthright (1924), The Devil's Disciple (1925), The Conjure Woman (1926) and The Spider's Web (1926). Many of these Micheaux titles are presumed lost.
In 1920, Preer joined The Lafayette Players, a theatrical stock company founded in 1915 by another pioneering stage and film actress Anita Bush, sometimes known as "The Little Mother of Black Drama." Bush and her troupe brought legitimate theatre to black audiences throughout the U.S. Based in Chicago, Preer met her future husband, fellow Lafayette Player Edward Thompson. They married in Nashville, Tennessee, in 1924 while on a Southern tour.
In between Micheaux films, Preer starred in numerous Lafayette productions. Along with the staging of Shakespearean and Afro-American dramas, she starred in such mainstream classics as Oscar Wilde's Salomé (1923), Within the Law, The Yellow Ticket, The Cat and the Canary and Anna Christie throughout the 1920s and early 1930s. In 1926, she had a successful stint on Broadway in David Belasco's production of Lulu Belle. Preer supported and understudied German actress Lenore Ulrich in the leading role of Edward Sheldon's steamy drama of a Harlem prostitute. She won further acclaim as Sadie Thompson on the West Coast in a revival of Somerset Maugham's fallen woman melodrama, Rain in 1928 and likewise squeezed some musical comedy and cabaret into her repertoire. Preer was also a recording vocalist in her own right, occasionally backed by such diverse musicians as Duke Ellington and Red Nichols.
In the late 1920s, Preer reportedly appeared uncredited roles in several films at Paramount. She is possibly in the brothel sequence of Erich Von Stroheim's The Wedding March (1928). At the Al Christie studios, she starred in three comedy shorts: The Framing of the Shrew (1928), Melancholy Dame (1928) and Oft in the Silly Night (1928). Thompson, Spencer Williams and Roberta Hyson costarred in these early Talkies released through Paramount. They are available on VHS under the title Birmingham Breakdown. A race musical for Aristo Films, Georgia Rose (1930), presented Preer in her feature Talkie debut.
In April 1932, Preer gave birth to her only child, Edeve (Sister Francesca) Thompson. She developed post-parturition complications and died of double pneumonia in November. Edward Thompson continued as a popular leading man and heavy in numerous race movies throughout the 1930s and 1940s. He died in 1960.
With the exception of Within Our Gates (1920) and the three Christie shorts, none of Preer's other film performances have survived to fully assess and evaluate the legend, whom critics called the "Race's most famous and most versatile actress." Preer's legacy rests on her Micheaux reputation and a handful of jazz records. Along with the neglected Anita Bush, Shingzie Howard, the sisters Lucia Lynn and Ethel Moses, Mercedes Gilbert and the tragic Nina Mae McKinney, Evelyn Preer ranks, as one of cinema's most enigmatic but important Afro-American actors.
Evelyn Preer's daughter Sister Francesca Thompson is assistant dean at Fordham University, Bronx, New York.
— Biography by Joseph Worrell
References: Bowser, Pearl. Oscar Micheaux, His Silent Films and His Circle: African-American Filmmaking and Race Cinema of the Silent Era. Bloomington, Indiana.: Indiana University Press, 2001, pp. 19-33; Cripps, Thomas. Slow Fade to Black: The Negro in American Film, 1900-1942. New York, New York: Oxford University Press, 1977, pp. 324-25.