People active in the silent era and people who keep the silent era alive.
Copyright © 1999-2018 by Carl Bennett and the Silent Era Company.
All Rights Reserved.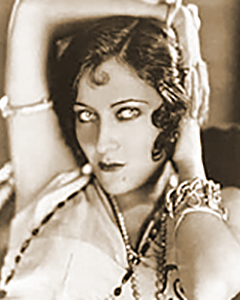 Photograph: Silent Era image collection.
Gloria Swanson


Born 27 March 1897 in Chicago, Illinois, USA, as Gloria May Josephine Svensson.
Died 4 April 1983 in New York, New York, USA, of natural causes.
Married actor Wallace Beery, 1916; divorced, 1919.
Married restauranteur Herbert K. Somborn, 20 December 1919; daughter, Gloria Swanson Somborn; divorced, 9 August 1922.
Married Marquis Henri de la Falaise, January 1925; divorced, 1931.
Married Michael Farmer, 1931; daughter, actress Michelle Farmer; divorced, 1934.
Married William Davey, 1945; divorced, 1948.
Married writer William Dufty, 1976; until Gloria's death, 4 April 1983.
References: Website-IMDb.
[Film Daily, 5 November 1925, page 1] Gloria Arrives / Gloria Swanson returned to New York last night on the Paris.