People active in the silent era and people who keep the silent era alive.
Copyright © 1999-2018 by Carl Bennett and the Silent Era Company.
All Rights Reserved.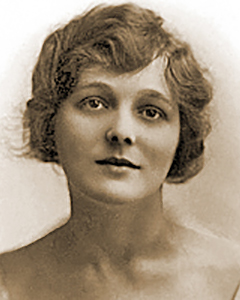 Photograph: Silent Era image collection.
Chrissie White
Born 23 May 1895 in London, England, United Kingdom, as Ada Constance White.
Died 18 August 1989 in Liss, Hampshire, England, United Kingdom.
Chrissie White began appearing in motion pictures in 1908 at the age of 13. She eventually became the most-popular British film actress in England by the early teens, and she worked almost exclusively for Hepworth Film Manufacturing Company.
Chrissie White appears to have made her last motion picture in 1933.
References: Website-IMDb.