People active in the silent era and people who keep the silent era alive.
Copyright © 1999-2018 by Carl Bennett and the Silent Era Company.
All Rights Reserved.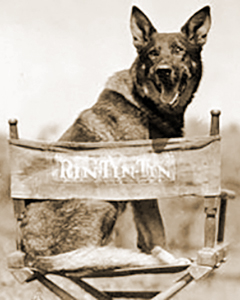 Photograph: Silent Era image collection.
Rin-Tin-Tin
Born September 1918 in Flirey, France.
Died 10 August 1932 in Los Angeles, California, USA.
Rin-Tin-Tin was the most-popular animal star of the entire silent era. Credited by Warner Brothers executives as saving the studio (prior to their successful Vitaphone sound pictures), Rin-Tin-Tin became a fan favorite among children and adults throughout the world.
An American soldier, Lee Duncan, rescued the male German Shepherd puppy from a World War I battlefield and brought him home after the war. As Duncan trained the young dog, he noted how exceptional Rin-Tin-Tin was and thought to pursue motion picture opportunities. Irving Cummings was the first to employ Rin-Tin-Tin for his Northwoods feature film The Man from Hell's River (1922). Rin-Tin-Tin also appeared in films for Robertson-Cole Pictures Corporation (1922) and Universal Pictures Corporation (1923). It was after Warner Brothers began producing Rin-Tin-Tin films in 1923, beginning with Where the North Begins (1923), that the Rin-Tin-Tin phenomenon began. Before long, Rin-Tin-Tin received top billing over seasoned motion picture actors and was the audience-drawing name on theatre marquees everywhere.
Rin-Tin-Tin appeared in his last Warner Brothers film in 1930, and he made his final motion picture appearance for Mascot Pictures in 1931. After Rin-Tin-Tin's death in 1932, his name passed to a number of German Shepherds, including Rin-Tin-Tin, Jr. (born September 1931; died December 1941), Rin-Tin-Tin III, and Rin-Tin-Tin IV. The dogs appeared in a number of films, radio shows and television programs.
References: Website-Wikipedia.