People active in the silent era and people who keep the silent era alive.
Copyright © 1999-2018 by Carl Bennett and the Silent Era Company.
All Rights Reserved.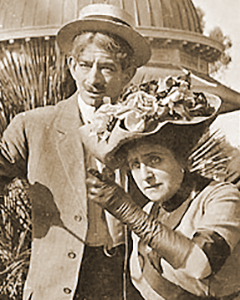 Charles Avery (left) in an unidentified comedy of the 1910s.
Photograph: courtesy Kris Krelovich.
Charles Avery
Born 28 May 1873 in Chicago, Illinois, USA, as Charles Avery Bradford.
Died 23 July 1926 in Los Angeles, California, USA, of suicide.
Charles Avery began film work at Biograph Company in 1908. He later worked at The Keystone Film Company as one of the original seven Keystone Kops. Avery turned to directing at Keystone in 1913.
References: Miller-Comedies p. 20 : Website-IMDb.