People active in the silent era and people who keep the silent era alive.
Copyright © 1999-2018 by Carl Bennett and the Silent Era Company.
All Rights Reserved.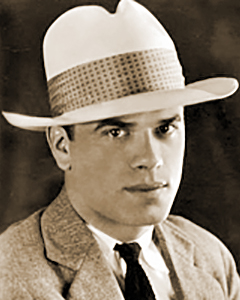 Photograph by Roy Vaughan;
Silent Era image collection.
Frank Capra
(same as Frank R. Capra)
Born 18 May 1897 in Bisaquino, Sicily.
Died 3 September 1991 in La Quinta, California, USA.
Frank Capra began in film work doing odd jobs, including film processing and editing. Directed his first short films in 1921. Worked as a gag man at the Mack Sennett and Hal Roach studios. Worked as a writer for Harry Langdon. Langdon gave Capra his first opportunity to direct a feature film in The Strong Man (1926). Eventually worked as a contract director at poverty-row studio Columbia Pictures Corporation. Capra was almost single-handedly responsible for Columbia's rise in industry stature.
In the sound era, Capra won Academy Awards for direction.