People active in the silent era and people who keep the silent era alive.
Copyright © 1999-2018 by Carl Bennett and the Silent Era Company.
All Rights Reserved.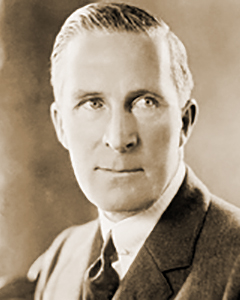 Photograph by Melbourne Spurr;
Silent Era image collection.
William Desmond Taylor
(same as William Taylor and William D. Taylor)
Born 26 April 1872 in Carlow, Ireland, United Kingdom, as William Cunningham Deane-Tanner.
Died 2 February 1922 in Los Angeles, California, USA, of a gunshot wound (murder).
Married Ethel May Harrison, 15 November 1902; divorced, 1911.
William Desmond Taylor worked as actor for The Vitagraph Company of America circa 1914. Worked as director for American Film Company, Incorporated, Pallas Pictures, The Oliver Morosco Photoplay Company, Realart Pictures Corporation and Famous Players-Lasky Corporation, circa 1915 through 1922. Infamous for his amorous? associations with actresses Mary Miles Minter and Mabel Normand.