People active in the silent era and people who keep the silent era alive.
Copyright © 1999-2018 by Carl Bennett and the Silent Era Company.
All Rights Reserved.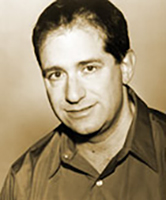 Photograph: courtesy David Drazin.
David Drazin
Chicago-based pianist/composer David Drazin is a native of Cleveland, Ohio, and a graduate of Ohio State University School of Music. He has improvised piano accompaniment for silent film screenings at the Gene Siskel Film Center of the School of the Art Institute (staff accompanist since 1985), Cinevent, Cleveland Cinematheque, North Carolina Museum of Art, Argonne National Laboratory, and many schools, churches and libraries.
Drazin is notable among contemporary accompanists for playing 1920s-era hot jazz and blues, rather than classic ragtime, to enhance silent comedies. His command of dance-accompaniment improvisation enables him to craft dynamic music for dramatic films.
References: David Drazin.