People active in the silent era and people who keep the silent era alive.
Copyright © 1999-2018 by Carl Bennett and the Silent Era Company.
All Rights Reserved.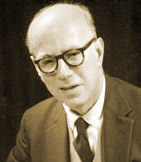 Photograph: courtesy Peter Perkins.
Arthur Oswald Dulay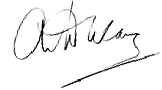 Born 1891 in Fulham, England.
Died 18 June 1971 in Huddersfield, England.
Arthur Oswald Dulay began playing public piano performances at age six. He later studied music at the Guildhall School in London, but insufficient income cut short his studies, which led to work as a silent film accompanist at age 16. His experience later helped him secure the position of musical director and orchestra conductor at the Avenue Pavillion Cinema in London.
With the arrival of the sound film, Dulay began work at BBC radio providing music with his quintet and the Cameo Orchestra, appearing in more than 2000 broadcasts through 1951.
When the British National Film Theatre was established in 1951, Arthur Oswald Dulay was appointed its first musical director. Dulay accompanied many silent film presentations at the National Film Theatre, until his retirement.
References: Peter Perkins : Arthur Oswald Dulay website.