People active in the silent era and people who keep the silent era alive.
Copyright © 1999-2018 by Carl Bennett and the Silent Era Company.
All Rights Reserved.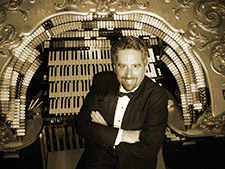 Photograph: courtesy Dennis James.
Dennis James
For more than forty years, Dennis James has played a pivotal role in the international revival of silent films presented with live music. Starting as a pianist for university screenings, James now tours worldwide under auspices of his Silent Film Concerts production company presenting professional silent film screenings with piano, theatre organ, chamber ensemble and full symphony orchestra accompaniments. Performing for films with orchestras since 1971 throughout the USA, Canada, Mexico and Europe, James is renowned for providing the most comprehensive selection of authentic silent films with live music presentations available today.
Dennis James is also dedicated to furthering public interest in pipe organs and to the continuation of the theatrical traditions of organ performance. He began his career in the 1960s as House Organist for the Lansdowne and Brookline Theatres in Pennsylvania, plus adding the Paramount and Rivoli Theatres in Indiana during music degree studies at Indiana University. From 1975 to 1989, James was the last appointed Resident Organist, a professional staff position for the Ohio Theatre in Columbus, and began serving three such professional appointments in 1999 (House Organist for Hollywood's El Capitan Theatre, House Organist for the Seattle Paramount Theatre, and Theatre Organist for the San Diego Symphony). James frequently performs at the Stanford Theatre in Palo Alto and California Theatre in San Jose as well as theatres throughout the West Coast between his international touring engagements. In a career filled with diverse activities, he has appeared together with such popular film personalities as Vincent Price, Ray Bolger, Bob Hope, Red Skelton, Myrna Loy, Olivia DeHavilland, Ginger Rogers and Fay Wray. He toured throughout the 1980s with silent film stars Lillian Gish and Charles 'Buddy' Rogers, providing musical accompaniment on national tour revivals of their motion pictures.
Dennis James and Silent Film Concerts have amassed one of the largest private libraries of authentic silent film music in existence today, acquired via film musicians, film music collectors and from historic theatres throughout the world. It includes complete original film scores plus hundreds of published generic silent film music compositions that are used to create historically accurate new musical scores where the originals do not survive. The resulting accompaniment performances are presented as historical recreations faithful to scoring practices of the period of each individual film's original release.
James' studies and personal associations with legendary veteran film organists Lee Erwin of New York, New York, Dr. C.A.J. Parmentier of New York, New York, Leonard MacLain of Philadelphia, Lowell Ayars of Bridgeton, New Jersey, Esther Higgins of Collingswood, New Jersey, Gaylord Carter of Los Angeles, California, and Lloyd del Castillo of Los Angeles, California, led him to develop his now frequently-imitated authentic film accompaniment recreations incorporating actual period performance practices and utilizing the surviving musical source materials from the silent film era with unwavering commitment to stylistic integrity in performance. Dennis' professional colleagues have hailed his forty-year career dedicated to silent film music performance with such commentary as Peter Mintun, New York pianist and cultural historian: "Theatre organist Dennis M. James is one of the only living musicians who understands what is musically, historically, and cinematically appropriate for silent films. Dennis James' choice of music (some of which is original) subconsciously guides the listener into many moods, tension, bliss, excitement, despair, terror, and hilarity. He is able to accomplish this while remaining correct for the period of the film. In other words, if Mr. James' performance had been played when the film was first exhibited, it would have been considered contemporary. He would never attempt to modernize the feeling of the period by creating a score that would clash."
"Silent films are a rare and precious art form of tremendous historical importance, and the art of live musical accompaniment to a silent film is a discipline of equally important historic value. Dennis James is both a musician of tremendous artistic scope and range, and a scholar who strives to preserve and restore this unique 20th century musical practice. He is without doubt the greatest practitioner of the art of solo silent film accompaniment. To witness a contemporary audience experience the beauty and power of silent film through the overwhelming symphonic dynamism that Dennis James unleashes with unerring skill on the theatre organ is an absolute revelation. He's a national treasure." — Stephen Salmons, Artistic Director of the San Francisco Silent Film Festival
From Theatre Organ Journal: "In commenting on the art of silent film accompaniment, it should be pointed out that a proper performance involves much more than 'chase' music, pratfall sound effects, or 'hamming it up' by introducing familiar song title interludes designed to attract titters from the audience. Considerable hard work is involved in terms of research, scoring, practice and timing in order to create a musical accompaniment which is both appropriate and unobtrusive while enhancing both the action and the mood of what is taking place on the screen . . . at the conclusion of this film a sophisticated audience loudly proclaimed that Dennis James had done his homework well, resulting in a truly excellent job of silent film accompaniment."
References: Dennis James.