People active in the silent era and people who keep the silent era alive.
Copyright © 1999-2018 by Carl Bennett and the Silent Era Company.
All Rights Reserved.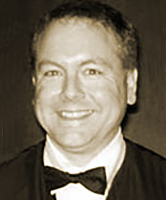 Photograph: courtesy Jeff Rapsis.
Jeff Rapsis
Jeff Rapsis lives in Bedford, New Hampshire, and accompanies silent film programs in venues throughout New England. A lifelong silent film fan, he began creating original musical scores and staging silent film programs in 2007 as a way to keep the form before the public. His technique is to create a set of original music in advance for each film, and then improvise a score based on this material as the screening takes place. Outside New England, he has accompanied films at the New York Public Library's "Meet the Musicmakers" series and the Kansas Silent Film Festival. Rapsis has also provided original music for several silent film DVD releases by Looser Than Loose Vintage Entertainment of Manchester, N.H., and scored the independent feature film Dangerous Crosswinds (2005).
References: Jeff Rapsis.