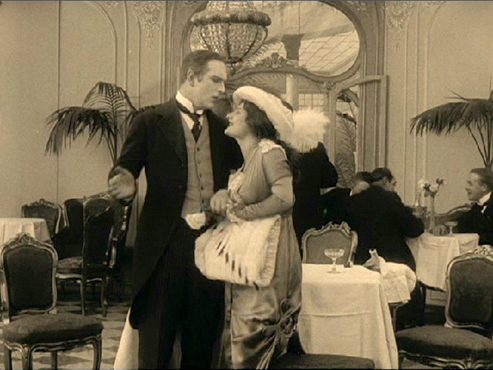 This DVD edition has been produced from a new high-definition video transfer utilizing the 1990s fine-grain restoration negative prepared predominantly from the original camera negative. The color tones have been emulated digitally using a Japanese release print as a reference.
The film was previously available in the USA on a black & white 1998 laserdisc produced by David Shepard. This PAL DVD at hand is the only one currently available on home video and, as in the USA edition, this Danish edition includes an alternate ending shot exclusively for the Russian market (2 minutes).
The film is accompanied by a music score arranged and performed on piano by Robert Israel.
Also among the disc's supplementary material is an exerpt from an abbreviated color-tinted Japanese version of the film (35 minutes), and an exerpt from Liebelei (1914), director August Blom's follow-up film (15 minutes).
North American collectors will need a region-free PAL DVD player capable of outputting an NTSC-compatible signal to view this edition.
This Region 0 PAL DVD edition is now OUT-OF-PRINT.