Reviews of silent film releases on home video.
Copyright © 1999-2018 by Carl Bennett
and the Silent Era Company.
All Rights Reserved.
An Auto Nut
(1919)
This short comedy stars Sid Smith, Paul Parrott and Vernon Dent, with Smith as an innocent automobile fanatic who is cheated by crooked lawyer Parrott. Dent is his dim-witted assistant who poses as a doctor. A slight, silly comedy. — Carl Bennett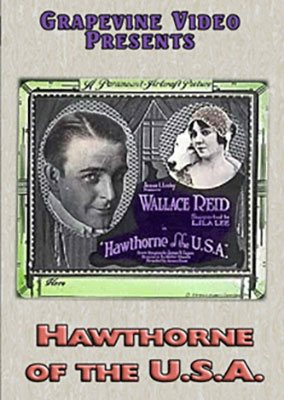 Grapevine Video
2003 DVD edition

Hawthorne of the U.S.A. (1919), color-tinted and color-toned black & white, 52 minutes, not rated,
with An Auto Nut (1919), black & white, 11 minutes, not rated.

Grapevine Video, no catalog number, UPC 8-42614-10037-6.
One single-sided, single-layered, Region 0 NTSC DVD-R disc, 1.33:1 aspect ratio image in full-frame 4:3 (720 x 480 pixels) interlaced scan MPEG-2 format, ? Mbps average video bit rate, ? kbps audio bit rate, Dolby Digital 2.0 stereo sound, English language intertitles, no foreign language subtitles, 1 chapter stop; standard DVD keepcase, $14.95.
Release date: 2003.
Country of origin: USA

Ratings (1-10): video: 6 / audio: 5 / additional content: 6 / overall: 6.