Reviews of silent film releases on home video.
Copyright © 1999-2018 by Carl Bennett
and the Silent Era Company.
All Rights Reserved.
The
Cameraman
(1928)
After completing Steamboat Bill, Jr. (1928), Buster Keaton became a contract performer at Metro-Goldwyn-Mayer when his independent contact was sold by producer (and brother-in-law) Joseph Schenck. At first, the move promised bigger production budgets and wider distribution worldwide for Buster's films. Ultimately, the change to MGM resulted in a stranglehold on Keaton's comic creativity, with the ultimate perversion of his screen persona and a disasterous teaming with nightclub performer Jimmy Durante.
However, still rolling forward from his creative independent productions of the mid-1920s, The Cameraman (1928) played like another great Buster Keaton film. Despite being forced to work from a tighter scripted shooting plan, the film is still heavily-sprinkled with Keaton's inventive improvizational gags.
A meek and bumbling street portrait photographer (Buster Keaton) tries to impress a girl (Marceline Day) who works in a newsreel office by becoming a newsreel photographer. His ineptness causes him to not only lose an opportunity to pick up a lucrative job as a newsreel cinematographer but also to lose his chance at a relationship with Sally, the girl. When Sally is endangered by the self-absorbed stupidity of a rival (Harold Goodwin), Buster comes to the rescue and eventually comes through with the real newsreel goods, thanks to an organgrinder's monkey.
Buster is quite funny and looks rather dapper in his dark broad-rimmed hat that was a conscious departure from his signature pork-pie hat. Marceline Day is something more than a supporting prop as a leading lady to Buster, thanks to MGM's insistence on story development. Goodwin is functional as a rival, as he was in Keaton's College (1927), but Harry Gribbon stands out in the supporting cast as a befuddled policeman.
The original camera negative for The Cameraman survived for many years but was lost in an MGM vault fire in the 1960s. Today, the film survives largely complete in duplicate materials that range from very-good to excellent. — Carl Bennett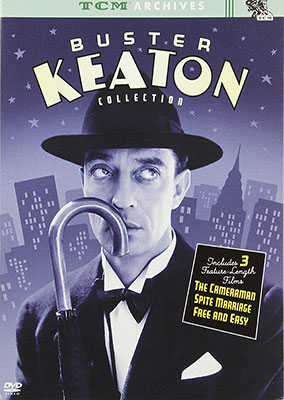 TCM Archives
2004 DVD edition

Buster Keaton Collection (1928-2004), black & white and color, 245 minutes total, not rated,
including The Cameraman (1928), black & white, 76 minutes, not rated.

Warner Home Video, 67009, UPC 0-12569-70092-5.
Two single-sided, dual-layered, Region 1 NTSC DVD discs, 1.33:1 aspect ratio image in full-frame 4:3 (720 x 480 pixels) interlaced scan MPEG-2 format, 5 Mbps average video bit rate, 192 kbps audio bit rate, Dolby Digital 2.0 stereo and mono sound, English language intertitles, English, Spanish and French language subtitles, 17 chapter stops; two plastic DVD trays on cardboard wrap in cardboard slipcase, $39.95.
Release date: 7 December 2004.
Country of origin: USA

Ratings (1-10): video: 9 / audio: 6 / additional content: 7 / overall: 8.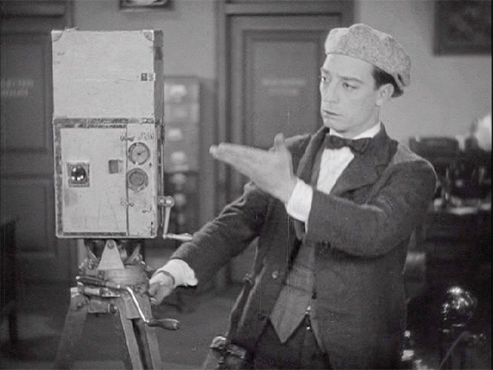 The overall quality of this DVD edition of The Cameraman is excellent, with improvements in the source materials over MGM Home Video's laserdisc and VHS editions from the early 1990s. However, a close comparison reveals a few minor concerns in this new edition.
Foremost, a few sections of this new DVD edition features a slightly tighter cropping of the image area than that of the laserdisc and VHS editions from MGM, notably on the right side, with slivers more from the top and bottom of the image. The edges of the main titles have been poorly digitally expanded (as they were in the laserdisc edition), but many viewers won't notice partially due to the typical overscan cropping of television monitors and the tighter cropping of this DVD.
That being said, viewers will love the improvement in source materials for this edition. The MGM editions were mastered from (what is reported to be) a 35mm fine-grain interpositive copied from the original camera negative for Robert Youngston in the early 1960s yielding excellent results, with missing sections replaced by what appeared to be a contrasty poor-to-good 16mm reduction positive (or very-poor 35mm print) yielding substandard (and quite distressing) results. In this new edition, the sections missing from the excellent 35mm interpositive have been replaced by a very-good 35mm positive. The viewing results are a vast improvement over previous editions, being closer in quality and not causing jarring transitions between materials. The new source materials still have a light amount of speckling, dust, marking, splices, and very minor emulsion damage (scuffing, chips and scratches) and beginning decomposition.
New for this edition is the musical accompaniment by Arthur Barrow performed on MIDI synthesizers that thankfully replaces the poorly-reproduced piano score from the MGM editions. The score is utilitarian, in a cutesy-corn way, and is hardly to be considered a first-class effort.
Also included as supplementary material is audio commentary on The Cameraman by Glenn Mitchell, author of A-Z of Silent Film Comedy: An Illustrated Companion; and a photo montage from the production of The Cameraman (47 photos). Mitchell's commentary is entertaining but a little uninformed, as he makes a small number of unresearched and inaccurate statements regarding actors' filmographies and the survival status of a couple of films. Mitchell also manages to mispronounce Marion Davies' name more than once. The two-minute introduction of The Cameraman by Robert Osborne is inconsequential.
With the tremendous improvement in visual quality in this disc, we highly recommend this out-of-print edition of The Cameraman as the finest available on home video.
USA: Click the logomark to purchase this Region 1 NTSC DVD edition from Amazon.com. Your purchase supports the Silent Era website.
Canada: Click the logomark to purchase this Region 1 NTSC DVD edition from Amazon.ca. Your purchase supports the Silent Era website.