Reviews of silent film releases on home video.
Copyright © 1999-2018 by Carl Bennett
and the Silent Era Company.
All Rights Reserved.

The Crazy Ray
[Paris endormi]
[Paris qui dort]
(1923)

Exploring, perhaps even establishing, some of the themes of science fiction film, René Clair's Paris endormi (1923) tells a tale of a mysterious morning when the night watchman at the top of the Eiffel Tower discovers that the world is frozen in time. People are found everywhere locked in the positions they were in at 3:25 AM.

The watchman discovers a small group of people who have escaped the effect, who flew in a plane that landed at 4:00 AM. Soon, they help themselves to food, alcohol, jewelry, money and more, as their morals begin to collapse. The group of men soon become jealous and protective of the sole, animate woman, two of them fighting bitterly at the top of the Eiffel Tower.

Then, they receive a radio message from the city. They discover that the source of the crazy effect is a scientist whose experiment has gone awry. On suggestion that the scientist wake everyone, and a night of calculations later, all is right with the world.

Perhaps groundbreaking in concept in its contemporary context, Clair's film is oddly fun and yet pedestrian in execution to modern eyes in its commonly-available abbreviated form. Our opinion is reserved until such time we can view the full-length version of the film. — Carl Bennett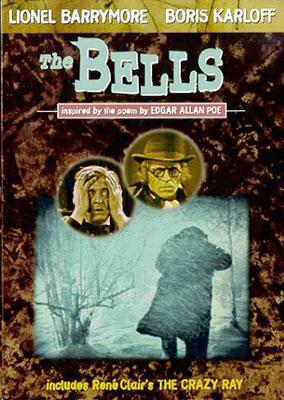 Image Entertainment
2000 DVD edition

The Bells (1926), color-toned black & white, 68 minutes, not rated,
with The Crazy Ray (1923), color-toned black & white, 19 minutes, not rated.

Film Preservation Associates, distributed by Image Entertainment,
ID5832DSDVD, UPC 0-14381-58322-9.
One single-sided, single-layered, Region 0 NTSC DVD disc, 1.33:1 aspect ratio iamge in windowboxed 4:3 (720 x 480 pixels) interlaced scan MPEG-2 format, ? Mbps average video bit rate, ? kbps audio bit rate, Dolby Digital 1.0 mono sound, English language intertitles, no foreign language subtitles, 5 chapter stops; snapper DVD case, $24.99.
Release date: 28 March 2000.
Country of origin: USA

Ratings (1-10): video: 7 / audio: 5 / additional content: 7 / overall: 7.