Reviews of silent film releases on home video.
Copyright © 1999-2018 by Carl Bennett
and the Silent Era Company.
All Rights Reserved.
Devil's Island
(1926)
Pauline Frederick stars, but it's ostensibly Marion Nixon's film to run away with as the slighted love interest to saintly George Lewis. This Chadwick studio B-film has less to do with the infamous French penitentiary and more so with class struggles, as matronly Frederick conspires to free her brilliant surgeon son (Lewis) from the shackles of criminal guilt by accident of birth. Deus Ex Machina in the form of a transoceanic radio message saves Nixon from sexual spider Harry S. Northrup. Almost laughable. — Carl Bennett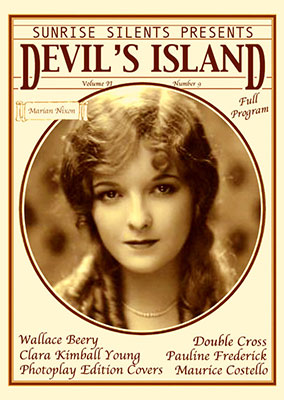 Sunrise Silents
2006 DVD edition

Devil's Island (1926), color-toned black & white, 66 minutes, not rated,
with Mystery of the Double Cross (1917) [episode 9: "When Jail Birds Fly"], color-toned black & white, 26 minutes, not rated, Sweedie Learns to Swim (1914), color-toned black & white, 13 minutes, not rated, What a Change of Clothes Did (1913), color-toned black & white, 11 minutes, not rated, Dreamy Dud: He Resolves Not to Smoke (1915), color-toned black & white, 7 minutes, not rated, and The Mutual Weekly, No. 109 (1918), color-toned black & white, 13 minutes, not rated.

Sunrise Silents, DIMN-N (NTSC) and DIMN-P (PAL), no UPC number.
One single-sided, single-layered, Region 0 NTSC or PAL DVD-R disc, 1.33:1 aspect ratio image in windowboxed 4:3 (720 x 480 pixels) interlaced scan MPEG-2 format, ? Mbps average video bit rate, ? kbps audio bit rate, PCM 2.0 stereo sound, English language intertitles, no foreign language subtitles, 6 chapter stops; standard DVD keepcase, $23.95.
Release date: 7 November 2006.
Country of origin: USA

Ratings (1-10): video: 5 / audio: 6 / additional content: 6 / overall: 5.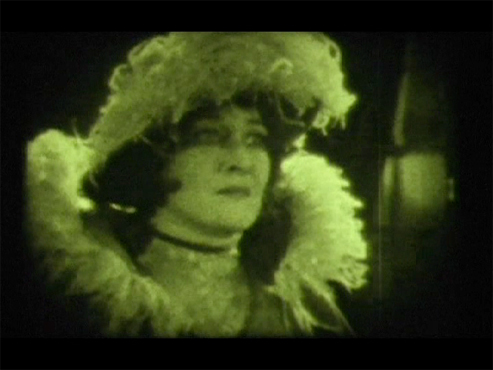 This DVD-R edition has been mastered at a natural speed from a good 8mm reduction print. Picture details are quite soft, and facial details are lost in distance shots in this reasonably acceptable greyscale-range print, which is compromised by a number of processing flaws, speckling, a generous amount of dust on the print, and some long emulsion scratches in the original 35mm print utilized for the 8mm copy.
The film is accompanied by a compiled MIDI synthesizer music score, which is servicable and, at least, not a series of scratchy LP needle drops.
SUNRISE SILENTS has discontinued business and this edition is OUT-OF-PRINT.