Reviews of silent film releases on home video.
Copyright © 1999-2018 by Carl Bennett
and the Silent Era Company.
All Rights Reserved.
Le Fantôme du
Moulin-Rouge
[The Phantom of the Moulin Rouge]
(1925)
René Clair's first feature film stars Georges Vaultier and Sandra Milovanoff, with support from Maurice Schutz, Albert Préjean, Paul Ollivier, José Davert and Madeleine Rodrigue.
More straight-forward than his earlier Avant-Garde shorts and less stylized than his later silent features, Clair's romantic drama of star-crossed lovers nonetheless ventures into surrealist territory when Paris becomes plagued by a series of bizarre and unexplained phenomena.
Yvonne (Milovanoff), the daughter of a retired politician, is in love with Julien Boissel (Vaultier), a succesful businessman. However, Gauthier (Davert), the publisher of a disreputable newspaper, holds incriminating evidence against Yvonne's father (Schutz) who is then obliged to encourage his daughter not to see Julien and consider Gauthier's demand that she marry him instead. Julien and Yvonne are, of course, extremely distressed by the situation. Boissel is in turn encouraged by his cousin (Rodrigue) to forget his troubles at the famous Moulin Rouge nightclub.
When a psychologist, Renault (Ollivier), intervenes to free Boissel from the troubling cares of his earthly body, Julien's soul wanders Paris playfully creating the mysterious phenomena. Boissel eventually settles into the Moulin Rouge, encouraging its carefree frivolity, but he is soon remorseful and yearns for the love of Yvonne. Julien's spirit learns of Gauthier's blackmail and proceeds to right wrongs.
Meanwhile, Renault is arrested for the 'murder' of Boissel and an autopsy of Julien's body is planned. His soul must return to his body before it is too late.
While the ghostly special effects of Julien's soul moving about in the mortal world were not new in cinematic history when this film was produced, they were notably very well executed. Much of the appeal of the film, which actually has little to do with the Moulin Rouge, is in observing Julien's ghostly exploits. — Carl Bennett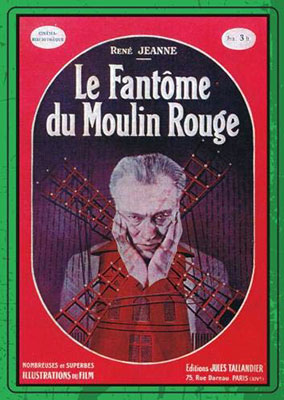 Sinister Cinema
2007 DVD edition

Le Fantôme du Moulin-Rouge (1925), black & white, 71 minutes, not rated.

Sinister Cinema, ST48, no UPC number.
One single-sided, single-layered, Region 0 NTSC DVD-R disc, 1.33:1 aspect ratio image in full-frame 4:3 (720 x 480 pixels) interlaced scan MPEG-2 format, ? Mbps average video bit rate, ? kbps audio bit rate, Dolby Digital 2.0 mono sound, English language intertitles, no foreign language subtitles, 12 chapter stops; standard DVD keepcase, $16.95.
Release date: 2007.
Country of origin: USA

Ratings (1-10): video: 4 / audio: 4 / additional content: 0 / overall: 4.