Reviews of silent film releases on home video.
Copyright © 1999-2018 by Carl Bennett
and the Silent Era Company.
All Rights Reserved.
L'Inhumaine
(1924)
Directed by Marcel L'Herbier, L'Inhumaine (The Inhuman Woman) stars the once-famous French opera singer Georgette Leblanc, with support from Jaque-Catelain, Philippe Hériat, Léonid Walter de Malte and Fred Kellerman.
Claire Lescot (Leblanc) is a famous opera singer who draws important men to her like moths to a flame. At luxurious parties in her modernist villa on the outskirts of Paris, Lescot basks in the amorous attentions of her many admirers while always remaining aloof. When it appears she is the reason for a young devotee's suicide, however, her fans desert her.
Released in France in mid-December 1924 to intense controversy for its cinematic and technical innovations, L'inhumaine is a visual tour-de-force; a fantastical, science fiction melodrama; and a momentous collaboration of legendary figures from the avant-garde movement. L'inhumaine is most notable for the style of filmmaking. In L'Herbier's words, it represents a "miscellany of modern art," bringing together some of the greatest artists from the time period, including painter Fernand Léger, architect Robert Mallet-Stevens, glassmaker René Lalique, fashion designer Paul Poiret, and directors Alberto Cavalcanti and Claude Autant-Lara, among others, to create a collaborative cinematic experience. In addition to portraying the starring role, Leblanc helped produce the film with L'Herbier's new production company, Cinégraphic.
The filming of the concert where Lescot is raucously booed is a renowned piece of cinema history: L'Herbier invited more than 2,000 people from the arts and fashionable society to attend the Théâtre des Champs-Élysées and play the part of the unruly audience. Among the attendees were Pablo Picasso, Man Ray, Erik Satie, René Clair, James Joyce and Ezra Pound (although it is impossible to identify them in the audience shots).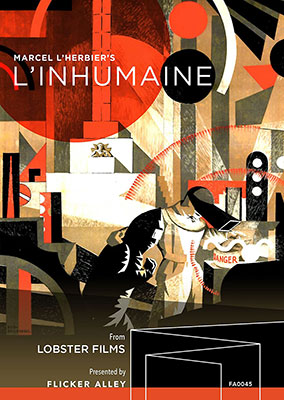 Flicker Alley
2016 Blu-ray Disc edition

L'Inhumaine (1924), color-tinted and color-toned black & white and black & white, 122 minutes, not rated.

Flicker Alley, FA0045, UPC 6-17311-67959-9, ISBN 1-893967-95-6.
One single-sided, dual-layered, Region A Blu-ray Disc, 1.33:1 aspect ratio image in pillarboxed 16:9 (1920 x 1080 pixels) progressive scan AVCHD MPEG-4 format, ? Mbps average video bit rate, ? kbps audio bit rate, Dolby Digital 2.0 stereo sound, French language intertitles, optional English language subtitles, 12 chapter stops; standard BD keepcase, $34.95.
Release date: 1 March 2016.
Country of origin: USA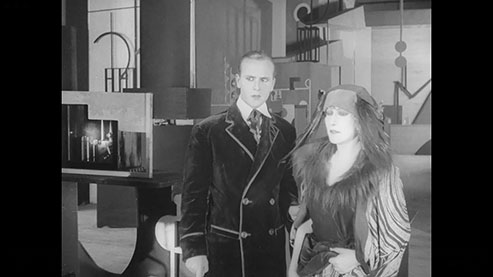 Lobster Films, with the support of Marie-Ange L'Herbier (the director's daughter), the French CNC, SACEM and Maison Hermès, utilized the original 35mm nitrate negative for this new digital 4K restoration, with the original color-tints restored for the first time since the film's release. From the opening minutes of the film, the results are spectacular.
The original French intertitles have been translated to optional English subtitles by film historian Lenny Borger.
The film is presented with optional music scores by percussionist Aidje Tafial and The Alloy Orchestra. Of the two, we prefer the Alloy Orchestra score for its obvious intent to accompany the film's action and convey mood. The Tafial score is too disconnected from the film to be enjoyed as anything but stand-alone music.
The supplemental material includes a featurette about the production of L'inhumaine (15 minutes), a featurette about the Aidje Tafial score, and a 12-page booklet featuring rare photographs and additional information about the film.
We enthusiastically recommend this edition of L'Inhumaine.
USA: Click the logomark to purchase this Region A Blu-ray Disc edition from Amazon.com. Your purchase supports the Silent Era website.
Canada: Click the logomark to purchase this Region A Blu-ray Disc edition from Amazon.ca. Your purchase supports the Silent Era website.
United Kingdom: Click the logomark to purchase this Region A Blu-ray Disc edition from Amazon.co.uk. Purchase supports Silent Era.
This Region A Blu-ray Disc edition is also available directly from . . .