Reviews of silent film releases on home video.
Copyright © 1999-2018 by Carl Bennett
and the Silent Era Company.
All Rights Reserved.

Manslaughter
(1922)

The bad suffer. The good suffer. But in the end, in the moralist sermons of Cecil B. DeMille, all is sacrifice and happiness. For who else in the silent era could have constructed such a stern moral universe than DeMille? Contrasting wanton dissipation against the rigid adherance to law, DeMille manipulates his characters like an autocratic puppetmaster, driving his dime-store philosophy home with a sledgehammer.

DeMille wanted his audience to be satisfied with their working-class lives as they were and targeted the backbone of America. He knew that the mass of Americans were simple folk and thought they were sheep to be led. Simple, unsubtle edicts are passed off to his viewers to make them feel humble and subservient. Yes, yes. Isn't it terrible that those mad people over there are having so much fun when you're over here suffering in the name of humility? Don't they see what we see? That their way is the road of decadence that leads to destruction? Suffer on, my lambs, for your reward for it will come . . . like a check in the mail. Yes, my flock, the check is in the mail! And you will cash yours soon enough. Not at all like those people over there who are living on bad credit.

What is so egregious about this posturing of DeMille's is that one senses that he is ultimately false to this attitude, that DeMille was only giving audiences what he thought they wanted out of a motion picture while touting himself as an important filmmaker in the guise of social commentator. Without peeling off too many onion-skin layers, it can be seen that DeMille feeds his audience a diet of upper-class corruption and unhappiness to hopefully discourage them from aspiring to rise above their station in life. Without reading too much into his films, DeMille appears to be posing the unspoken question, 'You don't want to be one of these people, do you?' And DeMille is at his worst when he takes this social stance.

With Manslaughter (1922), Cecil B. DeMille made just this kind of social-themed statement. As he would in The Ten Commandments (1923), these social pronouncements are emphasized with historical comparisons to attempt to give his insights some validity. DeMille titillates audiences with epic views of Roman debauchery then suddenly slams the history book shut loudly to dispense a moral imperative to a guilt-ridden viewer. 'Tonight's entertainment cannot be taken in sweetness,' says our lord DeMille, 'it must be taken with a hefty dose of acrid reality!' The residual taste is lingeringly metallic. 'Life is a struggle,' he says, 'suffer it and endure its hardships in happiness!'

But is this good cinema? Is a message of self-sacrifice and social service more important when it is delivered with storm und drang? We ask the ghost of Moses DeMille, 'Does the message really have to be etched in stone by lightning to be enlightening?' We say, no. And we wish that Cecil B. DeMille, one of the 20th century's most-recognized filmmakers, had been capable of reinforcing these simple and desirable social qualities without the stern and short-sighted blustering of a diminutive schoolmaster with an inferiority complex.

The judgmental and posteringly moralistic voice of Cecil B. DeMille speaks clearly through Manslaughter's lengthy intertitles. From the first intertitle, which begins, "Unfortunately for Lydia Thorne, she has everything in the world she wants except a Mother and Father," DeMille positions himself to make his street-corner pronouncements. Lydia (Leatrice Joy) is a devil-may-care party girl who is loved by the letter-of-the-law district attorney Dan O'Bannon (Thomas Meighan). When Lydia's carelessness results in the death of a police officer, O'Bannon sets aside his feelings and makes certain that Lydia is sent to prison. His job done, he resigns his position. In prison Lydia learns the value of humility and service to others. Wracked with guilt, O'Bannon slips into alcoholism. Released from prison, Lydia encounters O'Bannon on the dole. He cleans up, wins Lydia's heart, and runs for governor. His pending successful election is derailed by Lydia's criminal past, and O'Bannon gives up his political bid to be with the woman he loves.

Interestingly, the film features an early example of special effects matte work to depict Lydia's automobile race against a locomotive. Also featured is some of DeMille's trademark opulent historical scenes coupled with scenes of the jazz-mad and ridiculous idle rich. We find it laughable that DeMille casts Meighan in the role of the Germanic barbarian who conquers a dissipated Rome governed by a hedonistic queen (Leatrice Joy). — Carl Bennett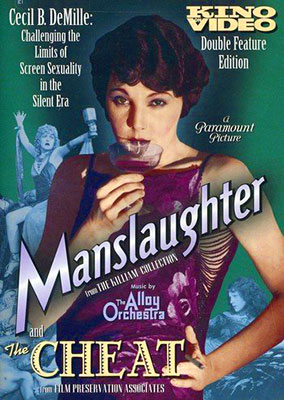 Kino on Video
2002 DVD edition

Manslaughter (1922), black & white and color-toned black & white, 100 minutes, not rated,
with The Cheat (1915), black & white, 59 minutes, not rated.

Kino International, K244, UPC 0-38329-02442-0.
One single-sided, dual-layered, Region 0 NTSC DVD disc, 1.33:1 aspect ratio image in full-frame 4:3 (720 x 480 pixels) interlaced scan MPEG-2 format, 5.5 Mbps average video bit rate, 192 kbps audio bit rate, Dolby Digital 2.0 stereo sound, English language intertitles, no foreign language subtitles, 10 chapter stops; standard DVD keepcase, $29.95.
Release date: 2 April 2002.
Country of origin: USA

Ratings (1-10): video: 7 / audio: 7 / additional content: 7 / overall: 7.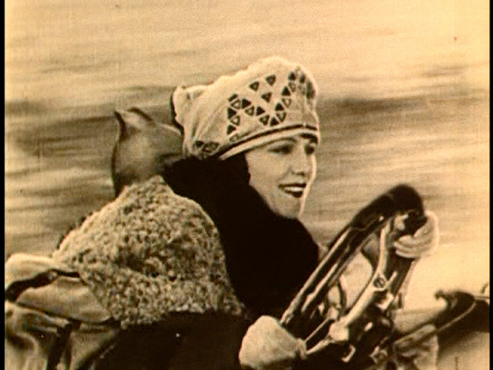 This DVD edition of Manslaughter appears to have been mastered from a 35mm preservation print from the Paul Killiam collection that may have been assembled several years ago from both 35mm and 16mm reduction print elements. At times the print is very-good, with some contrastiness, uneven exposures, scuffing and scratches, but with a reasonable amount of image detail. At other times the print is only good, with more pronounced contrast resulting in highlight and shadow details being lost, blurriness, and more extreme exposure fluctuations, all common signs of substandard 16mm print reproduction. The video transfer itself is generally very good, but the framing is a bit too tight (the fault of either the transfer cropping or the source print), with the bottom and left edges of intertitles most noticably cropped the tightest.
Addressing the musical accompaniment, one either loves or hates The Alloy Orchestra. We fall off the fence on the positive side, although we don't usually care for nontraditional scoring of silent era films. The Alloy Orchestra's unusual combination of jazzy numbers arranged for percussion and synthesizer (with okay sounds of piano, accordian, harmonium and a variety of wind and string instruments), bowed handsaw, and their rhythmic banging of traditional percussion instruments and metallic utencils is entertaining for many, annoying to others. Here the accompaniment is generally well composed and well performed, remaining generally appropriate to the film's mood and action, although its stereo audio presentation is compromised by a small number of dropouts.
Overall, the presentation appears to be the best possible from substandard film elements and is generally watchable. The disc makes a layer change, unexpectedly early in the disc, at 16:16 into Manslaughter.
Despite our opinionated assessments of Cecil B. DeMille's work herein, we recommend this fine duo of silent film editions as an valuable addition to any home video collection. Of the two films we favor The Cheat for its better content and its better presentation, both in the print quality and the musical accompaniment.
USA: Click the logomark to purchase this Region 0 NTSC DVD edition from Amazon.com. Your purchase supports the Silent Era website.
Canada: Click the logomark to purchase this Region 0 NTSC DVD edition from Amazon.ca. Your purchase supports the Silent Era website.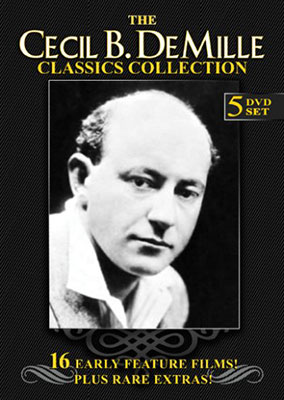 Passport Video
2007 DVD edition

The Cecil B. DeMille Classics Collection (1914-1926), black & white, 1622 minutes total, not rated,
including Manslaughter (1922), black & white, 100 minutes, not rated.

Passport Video, DVD-5090, UPC 0-25493-50900-0.
Five single-sided, dual-layered, Region 0 NTSC DVD discs, 1.33:1 aspect ratio image in full-frame and windowboxed 4:3 (720 x 480 pixels) interlaced scan MPEG-2 format, ? Mbps average video bit rate, ? kbps audio bit rate, Dolby Digital 1.0 mon0 sound, English language intertitles, no foreign language subtitles, 12 chapter stops; five-disc DVD keepcase, $19.98.
Release date: 12 June 2007.
Country of origin: USA