Reviews of silent film releases on home video.
Copyright © 1999-2018 by Carl Bennett
and the Silent Era Company.
All Rights Reserved.
Merry-Go-Round
(1923)
Erich von Stroheim's last film for Universal was taken away from him by studio executive Irving Thalberg to be completed by utilitarian director Rupert Julian. Yet the film still retains elements of the von Stroheim style. Notwithstanding Norman Kerry and Mary Philbin, the sets designed by Richard Day (with direction from Stroheim) are the stars of this film.
After six weeks of shooting, during which he shot 83,000 feet of negative for only about one-fifth of the scenario, Stroheim was removed from the production. When the film was finished by Rupert Julian, he stated that only approximately 600 feet of Stroheim footage remained in the film.
Among the supporting cast are Stroheim regulars Cesare Gravina, Dale Fuller and Maude George. — Carl Bennett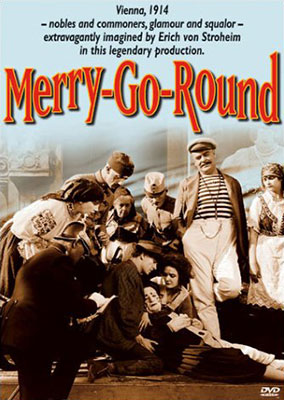 Image Entertainment
2003 DVD edition

Merry-Go-Round (1923), color-toned black & white and black & white, 114 minutes, not rated.

Film Preservation Associates, distributed by Image Entertainment,
ID9228DSDVD, UPC 0-14381-92282-0.
One single-sided, dual-layered, Region 0 NTSC DVD disc, 1.33:1 aspect ratio image in windowboxed 4:3 (720 x 480 pixels) interlaced scan MPEG-2 format, 4.5 Mbps average video bit rate, 224 kbps audio bit rate, Dolby Digital 2.0 stereo sound, English language intertitles, no foreign language subtitles, 11 chapter stops; standard DVD keepcase, $24.99.
Release date: 8 April 2003.
Country of origin: USA

Ratings (1-10): video: 6 / audio: 5 / additional content: 0 / overall: 6.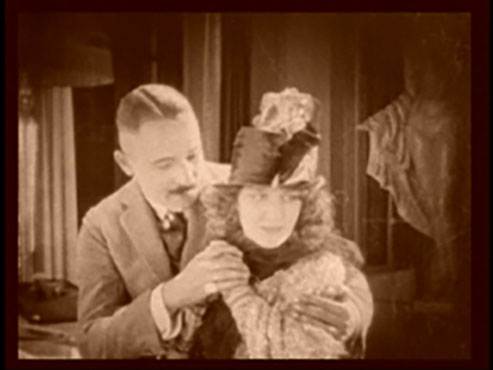 This DVD edition marked the beginning of a great year for Erich von Stroheim fans, with the majority of his surviving films being released on DVD home video in 2003.
The disc has apparently been mastered from 16mm reduction print materials. The windowboxed, natural-speed video transfer is good enough (even on upscaling HD equipment) but, despite a broad range of greytones, picture details in the source print are not a sharp as one would want, with close-ups being very-good but also with long shots that are quite soft in details.
The presentation is accompanied by a music score performed on synthesizers by Eric Beheim.
This is currently the only available DVD home video edition of Merry-Go-Round, but we feel there is some room for improvement both in picture quality and in the accompanying music.
USA: Click the logomark to purchase this Region 0 NTSC DVD edition from Amazon.com. Your purchase supports the Silent Era website.
Canada: Click the logomark to purchase this Region 0 NTSC DVD edition from Amazon.ca. Your purchase supports the Silent Era website.