Reviews of silent film releases on home video.
Copyright © 1999-2018 by Carl Bennett
and the Silent Era Company.
All Rights Reserved.
Miss Mend
(1926)
This Soviet three-chapter serial was directed by Fyodor Otsep and Boris Barnet, and stars Natalya Glan, Boris Barnet, Vladimir Fogel, Igor Ilinskii and Sergei Komarov.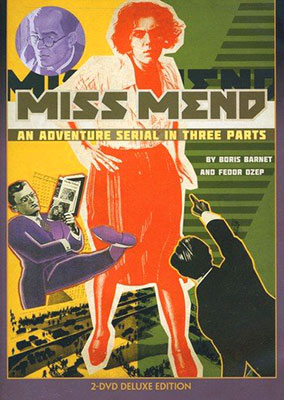 Flicker Alley
2009 DVD edition

Miss Mend (1926), black & white and color-tinted black & white, 285 minutes, not rated.

Flicker Alley, FA0014,
UPC 6-17311-67459-4, ISBN 1-893967-45-X.
Two single-sided, dual-layered, Region 0 NTSC DVD discs, 1.33:1 aspect ratio image in full-frame 4:3 (720 x 480 pixels) interlaced scan MPEG-2 format, 6.0 Mbps average video bit rate, ? kbps audio bit rate, Dolby Digital 2.0 stereo sound, English language intertitles (Russian language insert shots), English language subtitles (insert shots only), 36 chapter stops; two-disc standard DVD keepcase, $39.95.
Release date: 15 December 2009.
Country of origin: USA

Ratings (1-10): video: 8 / audio: 8 / additional content: 7 / overall: 8.