Reviews of silent film releases on home video.
Copyright © 1999-2018 by Carl Bennett
and the Silent Era Company.
All Rights Reserved.
My Grandmother
(1929)
This unexpectedly comic and surreal late feature film directed by Kote Migaberidze is full of visual gags, camera effects, paper and clay animation, and bizarre slapstick.
The first third of the film is a surprising and protracted condemnation of bureaucratic practices in the Soviet Union, as public officials are made to look grossly and comically inefficient.
Next, we follow a bureaucrat (Alegsandre Takaishvili) home after he has been fired for his inefficient excesses. His black-market-happy wife (Bella Chernova) flips out at the news. Desperate for a new position, the bureaucrat learns that he must acquire a grandmother, not an old woman but slang for an official sponsor, then be a pest. Meanwhile, cigarette butts become an issue. Don't ask. And the bureaucrat's wife goes comically psychotic as he attempts to secure a cushy, new job.
The film was understandably suppressed by the Soviet government for 40 years. Highly imaginative and deliciously surreal, My Grandmother feels to us like a M. Hulot film mixed with a Buñuel nightmare. — Carl Bennett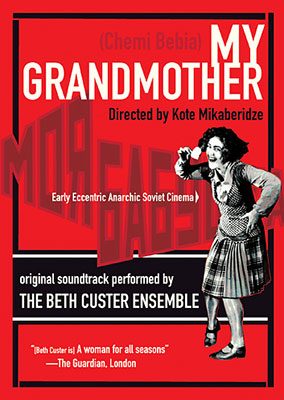 BC Records
2005 DVD edition

My Grandmother (1929), black & white, 65 minutes, not rated.

BC Records, BC 8, UPC 6-78277-00079-7.
One single-sided, single-layered, Region 0 NTSC DVD disc, 1.33:1 aspect ratio image in full-frame 4:3 (720 x 480 pixels) interlaced scan MPEG-2 format, ? Mbps average video bit rate, ? kbps audio bit rate, Dolby Digital 2.0 stereo sound, Russian language intertitles, no foreign language subtitles, 21 chapter stops; standard DVD keepcase, $20.00.
Release date: 2005.
Country of origin: USA

Ratings (1-10): video: 7 / audio: 9 / additional content: 0 / overall: 7.
This DVD edition has been mastered from a very-good 35mm restoration print from 1976, with Russian language intertitles, which may be conflated from a couple of source prints. The original source material was moderately speckled and the filmbase noticeably worn in places, but also with little dust, emulsion damage or other print anomalies. We have to wonder if the original camera framing is at fault (or was the intent of the filmmakers) or if it is the survival state of existing prints, but heads are often cropped outside the top of the frame. The framing of the picture appears to be excessively tight at the top and left of the picture.
The presentation features a new musical accompaniment by the Beth Custer Ensemble (Beth Custer was a founding member of The Club Foot Orchestra), and optional English language narration and vocal performance of the intertitles. The humorous and lively music is a great adjunct to the film.
We highly recommend this edition for the reasonable quality of the print materials utilized, and for the high quality of the musical accompaniment. The film is well worth adding to your silent film collection.
This Region 0 NTSC DVD edition is available directly from BC RECORDS.