Reviews of silent film releases on home video.
Copyright © 1999-2018 by Carl Bennett
and the Silent Era Company.
All Rights Reserved.
Phantom
(1922)
Meek and book-bound Lorenz Lubota (Alfred Abel), a city clerk, is struck down one morning by a horse-drawn carriage driven by Veronika (Lya de Putti). The accident, inconsequential as it was at the time, sets forth a series of circumstance that eventually costs Lorenz his sanity.
Quite poor but smitten by the vision of Veronika and carried on the enthusiasm of a bookbinder for his promise as an emerging poet, Lorenz approaches his pawnbroker aunt for cash to purchase a new suit in which he hopes to approach Veronika. But, Lorenz is alarmed to learn that her father intends to wed Veronika to a rich man.
Now despondent, and fired from his job, Lorenz nonetheless approaches Veronika's parents and announces his hopeless bid for her hand. Emboldened what he perceives as encouragement from her father, Lorenz proceeds to a fine restaurant where he encounters Melitta (Lya de Putti) and her mother, a pair of society vultures. Lorenz is astounded at Melitta's likeness to Veronika, and lies about his true situation to enter into a torrid, sick affair.
Now desperate for money to maintain his façade, Lorenz is convinced by forces and people around him to deceive his aunt to put up money against future royalties from his puffed-up, sham career as a poet. The money is given to Lorenz, but in no time the 60,000 marks are siphoned off by the grifter Wigottschinski and by Melitta. When the suspicious aunt visits Lorenz's home, she discovers not only that his mother is destitute but that he is jobless and has been frequenting questionable places and people.
Confronted by the aunt, Lorenz is given three days to rectify the swindle or face prison — leading to the film's famous sequence of special visual effects that convey Lorenz's guilt and engulfing fear.
Without the strength of will to recover the grifter's money or to stem Melitta's mad spending, Lorenz sinks further into desperation and is convinced by Wigottschinski to participate in the theft of his aunt's remaining money.
After this desperate chapter in his life, however, Lorenz is redeemed by the love of the ever-devoted Marie (Lil Dagover), the daughter of a humble bookbinder.
F.W. Murnau's adaptation of the serialized novel by Gerhart Hauptmann is brilliant, with restrained moments of flashiness and sustained sequences of psychological tension. Abel's performance is in turns mousy and frenetic, de Putti appropriately smarmy, and Dagove's placidly beautiful.
While the film has not been readily available for viewing, its recent restoration and availability on home video will help Phantom take its place, in the minds of silent film enthusiasts, among the major films in Murnau's canon. Viewers will be struck by Phantom's seminal themes of romantic obsession and doppelgänger love interests which lay the cinematic groundwork for later films like Vertigo (1958) and Obsession (1976). — Carl Bennett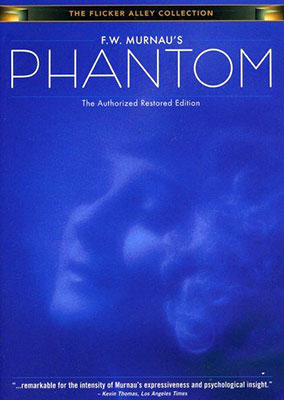 Flicker Alley
2006 DVD edition

Phantom (1922), color-toned and color-tinted black & white
and black & white, 120 minutes, not rated.

Flicker Alley, FA0003, UPC 6-17311-67289-7, ISBN 1-8939-6728-X.
One single-sided, dual-layered, Region 1 NTSC DVD disc, 1.33:1 aspect ratio image in windowboxed 4:3 (720 x 480 pixels) interlaced scan MPEG-2 format, 9 Mbps average video bit rate, ? kbps audio bit rate, Dolby Digital 2.0 stereo sound, English language intertitles, no foreign language subtitles, 25 chapter stops; standard DVD keepcase, $29.95.
Release date: 12 September 2006.
Country of origin: USA

Ratings (1-10): video: 10 / audio: 9 / additional content: 7 / overall: 9.
Our compliments to Flicker Alley for producing this wonderful DVD edition of Phantom, which has been mastered from the 35mm restoration print prepared in 2003 under the direction of the Friedrich Wilhelm Murnau Stiftung from the original 1922 35mm negative and a duplicate 35mm negative both held by Bundesarchiv-Filmarchiv in Berlin, Germany.
Virtually the entire image area from the original negative will be visible on most television monitors due to the windowboxed video transfer that holds a broad range of color-tones and the crisp details of the 35mm restoration print, which is only lightly marked with dust, speckling, scratches and scuffing after having been digitally cleaned. The restoration producers have chosen to allow some print flaws remain, but we find it easy to ignore given the overall high quality of the visuals. The transfer itself has been well-mastered to DVD, as most of the disc's sequences hold an astounding 9 Mbps constant video bit rate (with others being a variable rate averaging 7.5 Mbps), rendering a highly-detailed picture that is an absolute pleasure to view on either standard or HD monitors.
The film is accompanied by a beautiful stereo orchestral score composed by Robert Israel and performed by an assembled European orchestra. The music is highly pleasing and well complements the outstanding visual qualities of the film.
The edition includes a brief documentary on the production of Phantom (15 minutes), biographies, and a still-frame document and photo gallery (33 images).
We highly recommend this sumptuous presentation of Phantom, which was originally presented on Turner Classic Movies. A wonderful viewing experience. This disc is one of the best DVD home video editions of a silent era film ever produced for the Region 1 market.
USA: Click the logomark to purchase this Region 1 NTSC DVD edition from Amazon.com. Your purchase supports the Silent Era website.
Canada: Click the logomark to purchase this Region 1 NTSC DVD edition from Amazon.ca. Your purchase supports the Silent Era website.
United Kingdom: Click the logomark to purchase this Region 1 NTSC DVD edition from Amazon.co.uk. Your purchase supports Silent Era.
This Region 1 NTSC DVD edition is also available directly from FLICKER ALLEY.
This DVD edition is also available as an NTSC burn-to-disc download from EZTAKES.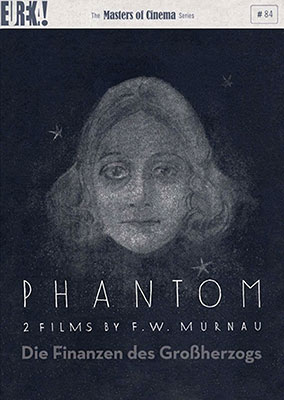 Eureka Entertainment
2009 DVD edition

Phantom (1922), color-toned and color-tinted black & white and black & white, 119 minutes, BBFC Classification PG,
with Die Finanzen des Großherzogs [The Finances of the Grand Duke] (1924), black & white, 78 minutes, BBFC Classification PG.

Eureka Entertainment, unknown catalog number (MoC 84), unknown UPC number.
Two single-sided, dual-layered, Region 2 PAL DVD discs, 1.33:1 aspect ratio image in full-frame 4:3 (? x ? pixels) interlaced? scan MPEG-2 format, ? Mbps average video bit rate, ? kbps audio bit rate, Dolby Digital 2.0 mono sound, German language intertitles, optional English language subtitles, chapter stops, two-disc standard DVD keepcase, £24.99.
Release date: 19 October 2009.
Country of origin: England