Reviews of silent film releases on home video.
Copyright © 1999-2015 by Carl Bennett
and the Silent Era Company.
All Rights Reserved.
Regeneration
(1915)
In Raoul Walsh's Regeneration (1915), a young orphan boy is taken in by an elderly and raggedy neighbor couple who immediately put him to work. Their drunkeness and fighting becomes the only home environment he knows. He soon leaves and grows up on the streets where he learns how to do anything to stay alive. By age 25, Owen Conway (Rockcliffe Fellows) is the leader of a New York City gang. Recently-elected district attorney Ames (Carl Harbaugh) resolves to rid the city of the gangster problem. Marie Deering (Anna Q. Nilsson) is the daughter of a society family who would love to see a gangster — they seem like such interesting people. Ames agrees to take the Deerings on a slumming party and stupidly ends up in the same skid row music hall as Conway. Ames is immediately confronted, but Conway is so taken with Marie's beauty and pleas that he releases Ames and escorts the Deering party to their car.
Marie's encounter with the lower classes moves her to humanitarian impulses and she begins charity work at a settlement house. In the streets she meets Conway again and coaxes him to attend cruise event that brings together the under privilaged for a free meal and entertainment. A carelessly tossed cigarette starts a fire that makes a total shambles of the event. Conway rescues two children from the burning boat. After another caring deed by Owen, Marie seeks him out to appeal to his hidden higher nature. As was the theory of social reformers of the time, and the espoused theory of the film, criminals are merely good people who are the product of their environment. Owen can be reformed by love, but can he resist the pull of his former life?
Lovely Anna Q. Nilsson is a pleasure to watch, but Rockcliffe Fellows' ugly mug looks more at home in a Dick Tracy comic strip than on a movie screen, even though he is portraying a thug. Many of the extras in the film were actual slum dwellers from the city streets Walsh chose for locations. The film features a few push-in and pull-out camera moves of the sort that were becoming common in American films in 1915. — Carl Bennett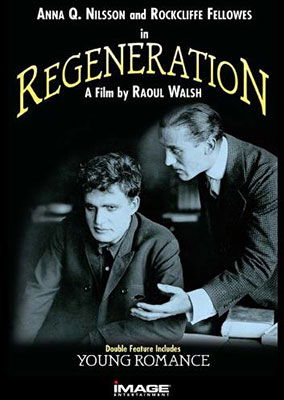 Image Entertainment
2001 DVD edition

Regeneration (1915), color-toned black & white, 72 minutes, not rated,
with Young Romance (1915), sepia-toned black & white, 58 minutes, not rated.

Film Preservation Associates, distributed by Image Entertainment, ID0510DSDVD, UPC 0-14381-05102-5.
Full-frame 4:3 NTSC, one single-sided, dual-layered DVD disc (rereleased on DVD-R disc), Region 1, 7 Mbps average video bit rate, 224 kbps audio bit rate, Dolby Digital 2.0 stereo sound, English language intertitles, no foreign language subtitles, 12 chapter stops, standard DVD keepcase, $24.99.
DVD release date: 27 November 2001 (rereleased 15 May 2012).
Country of origin: USA

Ratings (1-10): video: 8 / audio: 9 / additional content: 7 / overall: 8.
As noted in the insert card to this DVD, Regeneration has survived in a single known nitrate print found in the basement of a building in Missoula, Montana, in 1976. The film was rescued before the building was demolished and David Shepard purchased the print, which was well preserved but already starting to decompose and warp in some sections. The otherwise excellent print is marked by light speckling, scratches, but nitrate decomposition momentarily mars several sections of the print. The video transfer has been remastered for this DVD since the film's original release on laserdisc and VHS videotape in the 1990s, and now features color-toning in sepia and other colors which we find much more pleasing than the film's previous black & white presentation. As with the laserdisc release, this DVD transfer seems to be framing too tightly, with the top and bottoms of intertitles obviously cut off by television overscan cropping, and with heads cut off as in the shot of Marie entering Owen's hideout at 39:26.
This DVD edition features the same fine Philip Carli music score, composed and performed by Carli on piano, that was available in Shepard's earlier home video editions of Regeneration. The stereo score adds to the presentation of the film and is another example of Carli's respected work in silent film accompaniment.
Overall, David Shepard has slightly improved the presentations of these two films he has packaged together for DVD home video. Excusing the decomposition in Regeneration, the excellent prints and fine musical accompaniments make watching these films an absolute pleasure.
USA: Click the logomark to purchase this Region 1 NTSC DVD edition from Amazon.com. Your purchase supports the Silent Era website.
Canada: Click the logomark to purchase this Region 1 NTSC DVD edition from Amazon.ca. Your purchase supports the Silent Era website.
United Kingdom: Click the logomark to purchase this Region 1 NTSC DVD edition from Amazon.co.uk. Your purchase supports Silent Era.