Reviews of silent film releases on home video.
Copyright © 1999-2018 by Carl Bennett
and the Silent Era Company.
All Rights Reserved.
Tartuffe
(1926)
Director F.W. Murnau's turn on the well-known Jean-Baptiste Molière play of hypocrisy and greed was wrapped in another story of greed and attempted murder.
Murnau opens the film with a modern-day take on the theme. A greedy and hypocritical housekeeper has been working on a wealthy old man, attempting to coerce him into writing her into his will. Having convinced him that his grandson has been living an excessive and dissipating lifestyle as an actor, she has been manipulating the old man's affections away from the grandson. At the same time, secretly, she has been slowly poisoning the old man. Just as she has succeeded at obtaining the transfer of will, the grandson arrives.
The main Molière story is played out as a film-within-a-film, presented by the disguised grandson to the old man and his housekeeper. The self-righteous Tartuffe (Emil Jannings) has been bending the sensibilities of the rich Orgon (Werner Krauss) away from the extravagant to the austere with religious puritanism, and in turn alienating him from his loving wife Elmire (Lil Dagover).
When Elmire discovers the amount of money that Tartuffe has been sucking out of Orgon she goes to him, only to witness his slavish devotion to Tartuffe. Convinced that his wife will see the path that Tartuffe has illuminated for him, Orgon brings them together. Tartuffe is more interested in Elmire's feminine features that her request that he leave their house. Elmire tells her husband, who refuses to hear such slander against his friend in God. Elmire offers to prove the claim.
Elmire invites Tartuffe to tea and hides Orgon in the room to observe. Tartuffe senses a trap and turns the deception against Elmire, totally swaying Orgon to Tartuffe. Taking out all the stops, Elmire throws herself at Tartuffe, who is unable to restrain his lustful urges. On the verge of handing over everything to Tartuffe, Orgon is again brought to witness. Now drunken and full of lechery, Tartuffe is revealed not only as a hypocrite but also as a branded criminal. Mole-like Tartuffe slinks away into the dark as the couple are reconciled.
We are reminded of the film-within-film context as the nephew next reveals to his grandfather the housekeeper's heinous plan, poison and all.
If you do not find yourself in awe of the stupidity of Orgon's mindless infatuation with Tartuffe, you will be impressed with Jannings and Krauss, two of Germany's leading film actors from the 1920s. Both turn in a delicious performances, Krauss all meekly slavish (and without extreme makeup, unlike his better-known films) as the newly-converted religious zealot, and Jannings with his robotic gait and rodent-like, beady-eyed gazes as the human leach.
When Tartuffe was produced, three separate camera negatives were shot and assembled: one for domestic German release, one for general world release, and the third specifically for the United States of America. The US print has, at very least, survived the years. — Carl Bennett
Kino on Video
2003 DVD edition

Tartuffe (1926), color-toned black & white, 63 minutes, not rated,
with The Way to Murnau (2003), color and black & white, 35 minutes, not rated.

Kino International, K320, UPC 7-38329-03202-9.
One single-sided, dual-layered, Region 1 NTSC DVD disc, 1.33:1 aspect ratio image in full-frame 4:3 (720 x 480 pixels) interlaced scan MPEG-2 format, 5 Mbps average video bit rate, 192 kbps audio bit rate, Dolby Digital 2.0 stereo sound, English language intertitles, no foreign language subtitles, 13 chapter stops; standard DVD keepcase, $29.95.
Release date: 11 November 2003.
Country of origin: USA

Ratings (1-10): video: 8 / audio: 9 / additional content: 6 / overall: 8.
Another of F.W. Murnau's major works is available in this DVD edition from Kino International. As noted in the presentation introduction, this edition has been prepared from a restoration print of the American release version of the film. Originally held by the Library of Congress, the sepia-toned 35mm nitrate positive was repatriated to the Bundesarchiv-Filmarchiv in Koblenz, which created 35mm restoration elements in cooperation with the Friedrich Wilhelm Murnau Stiftung of Wiesbaden.
The very-good to excellent restoration print is highly-speckled at times during the film. While the image detail is excellent, the print is also slightly contrastier than it should be, with dark shadows and overly-bright highlights. A little dust is seen, and other print damage includes an occasional haze of emulsion scuffing and a few light scratches. We do wish that the speckling could have been cleaned up digitally before the disc's release. In revisiting the disc on high-definition equipment, we were tempted to raise our evaluation of the video quality for the disc's well-defined image detail but refrained for the source materials' contrasty survival state. Still, the DVD images well on HD equipment.
The film is accompanied by a new stereo music score performed on piano by Javier Pérez de Azpeitia. The sparkling music is well-performed and brings life to this presentation.
Also included on the disc is the documentary The Way to Murnau (2003) by Alexander Bohr.
Overall, despite its probably unavoidable shortcomings this edition is of the highest quality and is highly recommended to fans of Murnau, Jannings and silent films in general.
USA: Click the logomark to purchase this Region 1 NTSC DVD edition from Amazon.com. Your purchase supports the Silent Era website.
Canada: Click the logomark to purchase this Region 1 NTSC DVD edition from Amazon.ca. Your purchase supports the Silent Era website.
This Region 1 NTSC DVD edition is also available directly from KINO LORBER.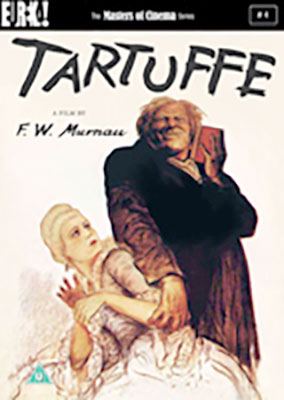 Eureka Entertainment
2005 DVD edition

Tartuffe (1926), black & white, 64 minutes, BBFC Classification U,
with Tartuffe: The Lost Film (200?), color and black & white, 37 minutes, not rated.

Eureka Entertainment, EKA40074 (MoC 4), UPC 5-060000-401936.
One single-sided, dual-layered, Region 2 PAL DVD disc, 1.33:1 aspect ratio image in full-frame 4:3 (? x ? pixels) interlaced? scan MPEG-2 format, ? Mbps average video bit rate, ? kbps audio bit rate, Dolby Digital 2.0 mono sound, German language intertitles, English language subtitles, chapter stops; standard DVD keepcase, £19.99.
Release date: 24 January 2005.
Country of origin: England