Reviews of silent film releases on home video.
Copyright © 1999-2015 by Carl Bennett
and the Silent Era Company.
All Rights Reserved.
Tarzan of the Apes


(1918)
This first film adaptation of the Tarzan novels of Edgar Rice Burroughs stars Elmo Lincoln as Tarzan and Enid Markey as Jane.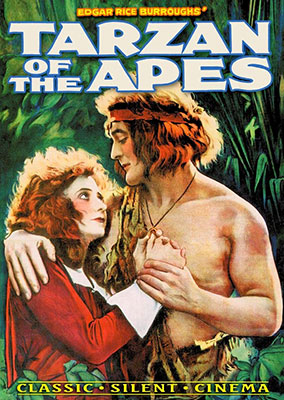 Alpha Video 2009 DVD edition

Tarzan of the Apes (1918), black & white, 60 minutes, not rated.

Alpha Home Entertainment, ALP 5867D, UPC 0-89218-58679-7.
Full-frame 4:3 NTSC, one single-sided, single-layered DVD disc, Region 0, ? Mbps average video bit rate, ? kbps audio bit rate, Dolby Digital 2.0 stereo sound, English language intertitles, no foreign language subtitles, 6 chapter stops, standard DVD keepcase, $6.98.
DVD release date: 28 July 2009.
Country of origin: USA

Ratings (1-10): video: 5 / audio: 3 / additional content: 4 / overall: 4.