A growing source of silent era film information.
This listing is from The Progressive Silent Film List by Carl Bennett.
Copyright © 1999-2014 by Carl Bennett and the Silent Era Company.
All Rights Reserved.

About This Listing / Report Omissions or Errors in This Listing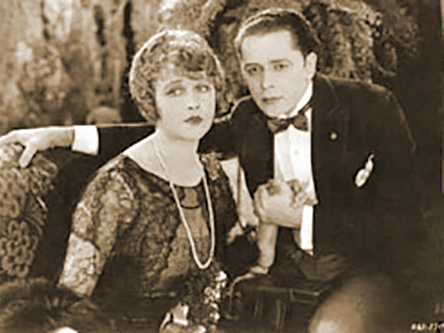 Anna Q. Nilsson (left).
Photograph: Silent Era image collection.

Adam's Rib


(1923) American
Color/B&W : Ten reels / 9526 feet
Directed by Cecil B. DeMille

Cast: Milton Sills [Michael Ramsay], Elliott Dexter [Professor Nathan Reade], Theodore Kosloff [Monsieur Jaromir, King of Morania], Anna Q. Nilsson [Mrs. Michael Ramsay], Pauline Garon [Mathilda Ramsay], Julia Faye ['the mischevous one'], Clarence Geldert [James Kilkenna], George Field [Minister to Morania], Robert Brower [Hugo Kermaier], Forrest Robinson [Kramar], Gino Corrado [Lieutenant Braschek], Wedgewood Nowell [the minster's secretary], Clarence Burton [the cave man]

Famous Players-Lasky Corporation production; distributed by Paramount Pictures Corporation. / Scenario by Jeanie Macpherson, from a screen story by Jeanie Macpherson. Cinematography by Alvin Wyckoff and Guy Wilky. Edited by Anne Bauchens. Presented by Jesse L. Lasky. / © 7 February 1923 by Famous Players-Lasky Corporation [LP18658]. Premiered 4 February 1923 in Los Angeles, California. Released 4 March 1923. / Standard 35mm spherical 1.37:1 format. [?] Technicolor color process sequences? / Production cost: $400,000.

Drama.

Survival status: Print exists in the International Museum of Photography and Film at George Eastman House film archive.

Current rights holder: (unknown)

Listing updated: 18 October 2013.

References: Baer-Film p. 2; Bohn-Light p. 81; Drew-Speaking p. 121; Sherwood-Best p. 154; Sinyard-Silent p. 147 : Photoplay-192306 p. 25 : Website-AFI : with additional information provided by Manish Patwari.

Home video: DVD.