A growing source of silent era film information.
This listing is from The Progressive Silent Film List by Carl Bennett.
Copyright © 1999-2014 by Carl Bennett and the Silent Era Company.
All Rights Reserved.

About This Listing / Report Omissions or Errors in This Listing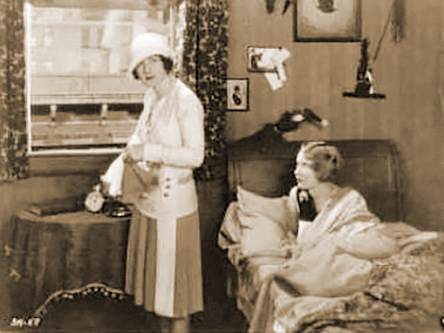 Photograph: Silent Era image collection.

After Midnight


(1927) American
B&W : Seven reels / 6312 feet
Directed by Monta Bell

Cast: Norma Shearer [Mary], Lawrence Gray [Joe Miller], Gwen Lee [Maizie], Eddie Sturgis [Red Smith], Philip Sleeman [Gus Van Gundy]

Metro-Goldwyn-Mayer Pictures Corporation production; distributed by Metro-Goldwyn-Mayer Distributing Corporation. / Scenario by Lorna Moon, from a screen story by Monta Bell. Production design by Cedric Gibbons and Richard Day. Costume design by René Hubert. Cinematography by Percy Hilburn. Intertitles by Joe Farnham (Joseph Farnham). Edited by Blanche Sewell. / © 17 August 1927 by Metro-Goldwyn-Mayer Pictures Corporation [LP24413]. Released 20 August 1927. / Standard 35mm spherical 1.37:1 format. / Silent film.

Drama: Society.

Survival Status: Print exists.

Keywords: USA: New York: New York

Listing updated: 5 August 2009.

References: Eames-MGM p. 36; Sweeney-Coming p. 110; Weaver-Twenty p. 412 : Website-AFI.