A growing source of silent era film information.
This listing is from The Progressive Silent Film List by Carl Bennett.
Copyright © 1999-2014 by Carl Bennett and the Silent Era Company.
All Rights Reserved.

About This Listing / Report Omissions or Errors in This Listing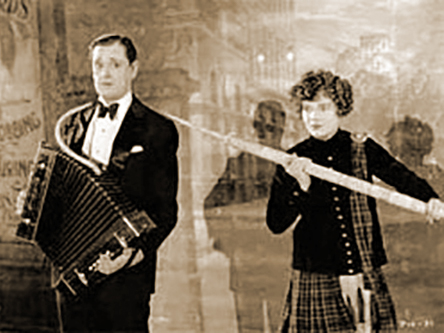 Lois Wilson (right).
Photograph: Silent Era image collection.


Broadway Nights


(1927) American
B&W : Seven reels / 6765 feet
Directed by Joseph C. Boyle

Cast: Lois Wilson [Fannie Fanchette], Sam Hardy [Johnny Fay], Louis John Bartels [Baron], Philip Strange [Bronson], Barbara Stanwyck [dancer], Bunny Weldon [the nightclub producer], Sylvia Sidney

Robert Kane Productions production; distributed by First National Pictures, Incorporated. / Scenario by Forrest Halsey, from a screen story by Norman Houston. Production manager, Leland Hayward. Cinematography by Ernest Haller. Presented by Robert Kane. / © 3 May 1927 by Robert Kane Productions [LP23913]. Released 15 May 1927. / Standard 35mm spherical 1.37:1 format. / Stanwyck's film debut. / Silent film.

Drama: Romance.

Survival status: (unknown)

Current rights holder: (unknown)

Listing updated: 2 October 2008.

References: Drew-Speaking pp. 267-268, 289 : Website-AFI.