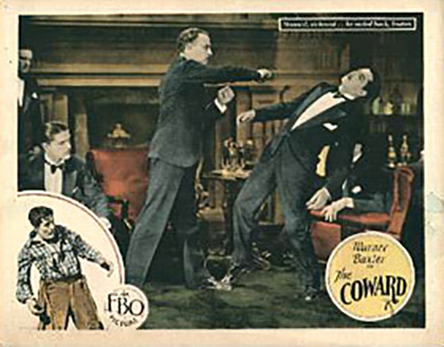 Lobby card: Silent Era image collection.


The Coward


(1927) American
B&W : Six reels / 5093 feet
Directed by Alfred Raboch

Cast: Warner Baxter [Clinton Philbrook], Sharon Lynn [Alicia Van Orden], Freeman Wood [Leigh Morlock], Raoul Paoli [Pierre Bechard], Byron Douglas [Darius Philbrook], Charlotte Stevens [Marie], Hugh Thomas [Maitland]

R-C Pictures Corporation production; distributed by Film Booking Offices of America, Incorporated [FBO]. / Scenario by Edfrid Bingham and Enid Hibbard, from the adaptation by J.G. Hawks of the short story "The Coward" by Arthur Stringer. Assistant director, William T. Dagwell. Cinematography by Jules Cronjager. Presented by Joseph P. Kennedy. / © 21 August 1927 by R-C Pictures Corporation [LP24466]. Released 21 August 1927. / Standard 35mm spherical 1.33:1 format. / Silent film.

Drama.

Survival status: (unknown)

Current rights holder: (unknown)

Listing updated: 16 March 2010.

References: Website-AFI.