A growing source of silent era film information.
This listing is from The Progressive Silent Film List by Carl Bennett.
Copyright © 1999-2014 by Carl Bennett and the Silent Era Company.
All Rights Reserved.

About This Listing / Report Omissions or Errors in This Listing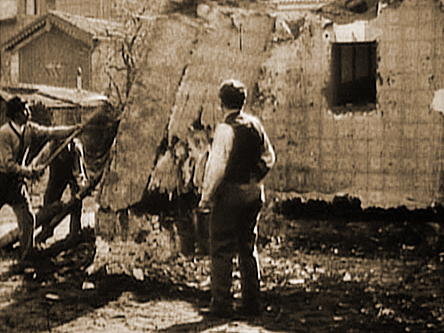 Auguste Lumière (center).
Frame enlargement: Silent Era image collection.


Démolition d'un mur


Also known as Démolition d'un mur I-II in France; Demolition of a Wall in the USA : [Le Mur], [Falling Wall], [Fall of a Wall], [Tearing Down a Wall]
(1895) French
B&W : Short film
Directed by Louis Lumière and Auguste Lumière

Cast: Auguste Lumière [himself], [other workmen].

Société Lumière production; distributed by Société Lumière. / Cinématographe spherical 1.30:1 format. / Lumière film number 40. The film is described in a letter dated 1 May 1896, from Charles H. Webster to Raff & Gammon in New York, as "Laborers tipping a brick wall over."

Documentary: Actuality.

Synopsis: View of workers falling a small wall at the Lumière factory, supervised by Auguste Lumière.

Survival status: Print exists.

Current rights holder: (unknown)

Listing updated: 20 July 2007.

References: Film viewing : Altman-Sound pp. 86, 93; Brownlow-Parade p. 8; Ceram-Archeology p. ?; Fell-History p. 14; Musser-Emerge pp. 226, 600, 602; Ramsaye-Million p. 241; Sinyard-Silent p. 11 : Other-Trewey.

Home video: DVD.