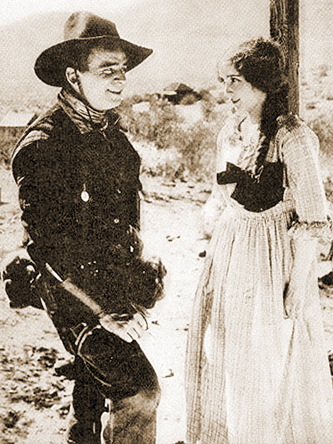 Douglas Fairbanks (left) and Bessie Love.
Photograph: Silent Era image collection.


The Good Bad Man


(1916) American
B&W : Five reels
Directed by Allan Dwan

Cast: Douglas Fairbanks, Bessie Love, Sam de Grasse, Doc Cannon, Joseph Singleton [Weasel], Mary Alden, George Beranger (André Beranger), Fred Burns

The Fine Arts Film Company production; distributed by Triangle Film Corporation. / Scenario by Douglas Fairbanks. / © 19 October 1923 by Tri-Stone Pictures, Incorporated [LP19514]. Released 7 May 1916. / Standard 35mm spherical 1.37:1 format. / The film was reedited and rereleased in the USA by Tri-Stone Pictures, Incorporated, in 1923.

Drama: Western.

Synopsis: Synopsis available in AFI-F1 n. F1.1655.

Survival status: Print exists in the film holdings of Cohen Media Group (Raymond Rohauer collection) [35mm positive].

Current rights holder: Public domain.

Keywords: Crime: Kidnapping, Murder, Theft - Death: Murder - Police: Sheriffs - Revenge

Listing updated: 24 September 2013.

References: AFI-F1 n. F1.1655; Bardèche-History p. 115; Bogdanovich-Dwan pp. 7-8; Everson-American p. 107; Shipman-Cinema p. 60 : ClasIm-240 p. 45.