A growing source of silent era film information.
This listing is from The Progressive Silent Film List by Carl Bennett.
Copyright © 1999-2014 by Carl Bennett and the Silent Era Company.
All Rights Reserved.

About This Listing / Report Omissions or Errors in This Listing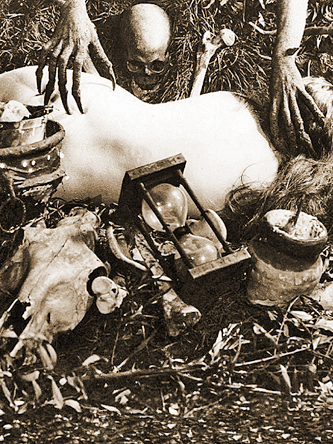 Photograph: Silent Era image collection.


Häxan


(The Witch)
Also known as Witchcraft Through the Ages in the USA
(1922) Swedish
B&W : Eight reels / 2500 metres
Directed by Benjamin Christensen

Cast: Benjamin Christensen [the Devil and Jesus Christ], Oscar Stribolt [lusty friar], Clara Pontopiddan, Karen Winther, Tora Teje, Maren Pederson, Elith Pio

Svensk Filmindustri production. / Scenario by Benjamin Christensen. Art direction by Holst-Jorgensen. Cinematography by Johan Ankerstjerne. Edited by Richard Louw. / World premiere, 18 September 1922. Premiered 7 November 1922 in Denmark. / Standard 35mm spherical 1.37:1 format. / Most footage was shot outside Copenhagen, Denmark. The film was released in Germany in June 1924. The film was released in the USA in March 1930.

Drama: Horror.

Survival status: Print exists in the Cinemateket-Svenska Filminstitutet film archive [35mm positive].

Current rights holder: (unknown)

Keywords: Demons - Torture - Witchcraft - Witches

Listing updated: 16 October 2011.

References: Bardèche-History pp. 136, 184; Brownlow-Parade p. 511; Limbacher-Feature p. 278; Manchel-Terrors pp. 91-92; McIlroy-Sweden pp. 21, 166; Mottram-Danish pp. 109, 111.

Home video: DVD.