A growing source of silent era film information.
This listing is from The Progressive Silent Film List by Carl Bennett.
Copyright © 1999-2014 by Carl Bennett and the Silent Era Company.
All Rights Reserved.

About This Listing / Report Omissions or Errors in This Listing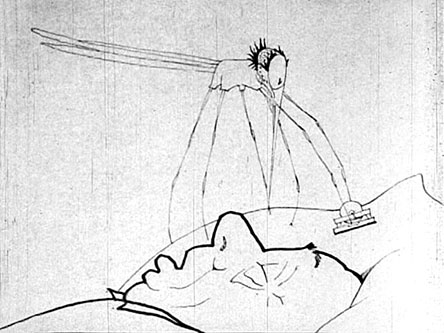 Frame enlargement: Silent Era image collection.


How a Mosquito Operates


Also known as [The Story of a Mosquito]
(1912) American
B&W : One reel
Directed by Winsor McCay

Cast: (unknown)

Animation by Winsor McCay. / Standard 35mm spherical 1.37:1 format.

Comedy: Cartoon.

Survival status: Print exists in the Cinémathèque Québécoise film archive [incomplete (the live-action prelude to the animation section is presumed lost)].

Current rights holder: Public domain.

Keywords: Animation [paper]

Listing updated: 10 June 2009.

References: Film viewing : Other-McCay.

Home video: DVD.