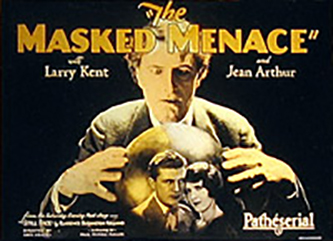 Lobby card: Silent Era image collection.


The Masked Menace


(1927) American
B&W : Serial / 20 reels
Directed by Arch B. Heath

Cast: Larry Kent [Keats Dodd], Jean Arthur [Faith], Thomas Holding [Carl Phillips], Laura Alberta [Grandma Newton], John F. Hamilton [the half-wit], William Norton Bailey (William Bailey), Gus de Weil, Agnes De Pome, Tom MacLarnie (Thomas McLarnie), William Cavanaugh, Sidney Paxton, Neill Bridges, Tully Nash, Edward Roseman

[?] Pathé Exchange, Incorporated? production; distributed by Pathé Exchange, Incorporated [Pathéserial]. / From the short story "Still Face" by Clarence Budington Kelland. / Ten episodes (two reels each): [1] "Against Odds," released [?] 12 October or 6 November? 1927. / Standard 35mm spherical 1.37:1 format. / Silent film.

Drama.

Survival status: The film is presumed lost.

Current rights holder: (unknown)

Keywords: Serials

Listing updated: 21 August 2008.

References: Lahue-Continued pp. 260-261, 286 : Website-IMDb; Website-SerSq.