A growing source of silent era film information.
This listing is from The Progressive Silent Film List by Carl Bennett.
Copyright © 1999-2014 by Carl Bennett and the Silent Era Company.
All Rights Reserved.

About This Listing / Report Omissions or Errors in This Listing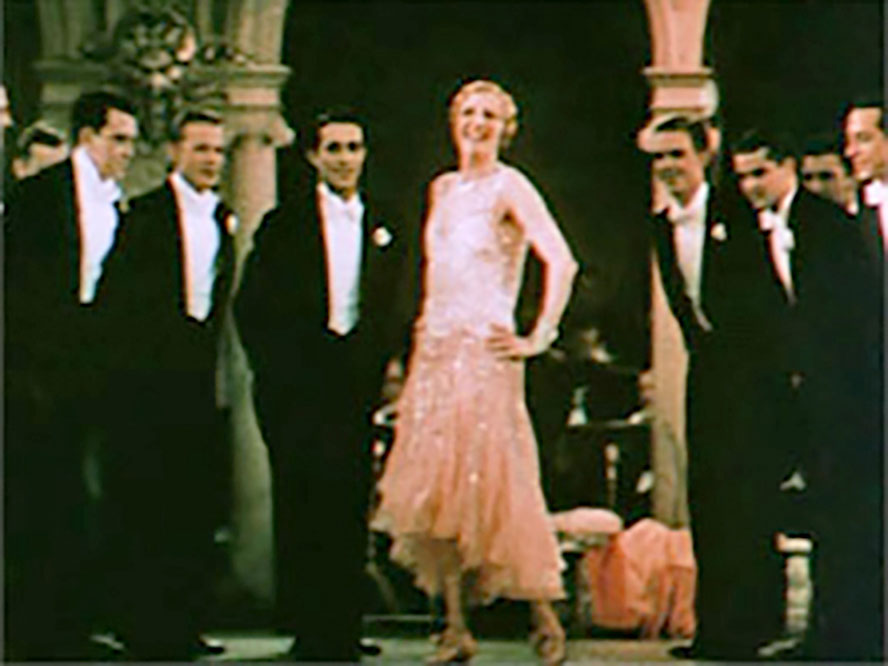 Marilyn Miller (center).
Frame enlargement: Silent Era image collection.

Sally


(1929) American
Color : Twelve reels / 9277 feet
Directed by John Francis Dillon

Cast: Marilyn Miller [Sally], Alexander Gray [Blair Farquar], Joe E. Brown [Connie (the grand duke)], T. Roy Barnes [Otis Hooper], Pert Kelton [Rosie, his girlfriend], Ford Sterling ['Pops' Shendorff], Maude Turner Gordon [Mrs. Ten Brock], Nora Lane [Marcia, her daughter], E.J. Ratcliffe [John Farquar, Blair's father], Jack Duffy [the old roué], Albertina Rasch Ballet

First National Pictures, Incorporated, production; distributed by First National Pictures, Incorporated. / Screenplay by Waldemar Young, with dialogue by Waldemar Young, from the musical play Sally by Guy Bolton and P.G. Wodehouse (book), Jerome Kern (music) and Clifford Grey (lyrics). Art direction by Jack Stone. Costume design by Edward Stevenson. Songs "Sally" by Al Dubin, Joe Burke and Jerome Kern (music and lyrics); "Walking Off Those Balkan Blues," "After Business Hours," "All I Want to Do, Do, Do is Dance," "If I'm Dreaming Don't Wake Me Up Too Soon," and "What Will I Do Without You?" by Al Dubin and Joe Burke (music and lyrics); "Wild Rose" by Jerome Kern (music) and Clifford Grey (lyrics); and "Look for the Silver Lining" by Jerome Kern (music) and B.G. DeSylva (lyrics). Music by Leo Forbstein. Dance direction by Larry Ceballos. Cinematography by Dev Jennings (J. Devereaux Jennings) and C. Edgar Schoenbaum. Edited by LeRoy Stone. / © 11 February 1930 by First National Pictures, Incorporated [LP1084]. Premiered 23 December 1929 in New York, New York. General release, 12 January 1930. / Standard 35mm spherical 1.37:1 format. Technicolor two-strip color process. Western Electric Vitaphone sound-on-disc sound system. / The film was also released in the USA in a silent version by First National Pictures, Incorporated, in 1930. The play was previously filmed as Sally (1925). / Full-sound film.

Musical.

Survival status: Print exists.

Current rights holder: (unknown)

Keywords: Synchronized sound film

Listing updated: 18 January 2010.

References: Bohn-Light p. 184 : Website-AFI.

Home video: DVD.