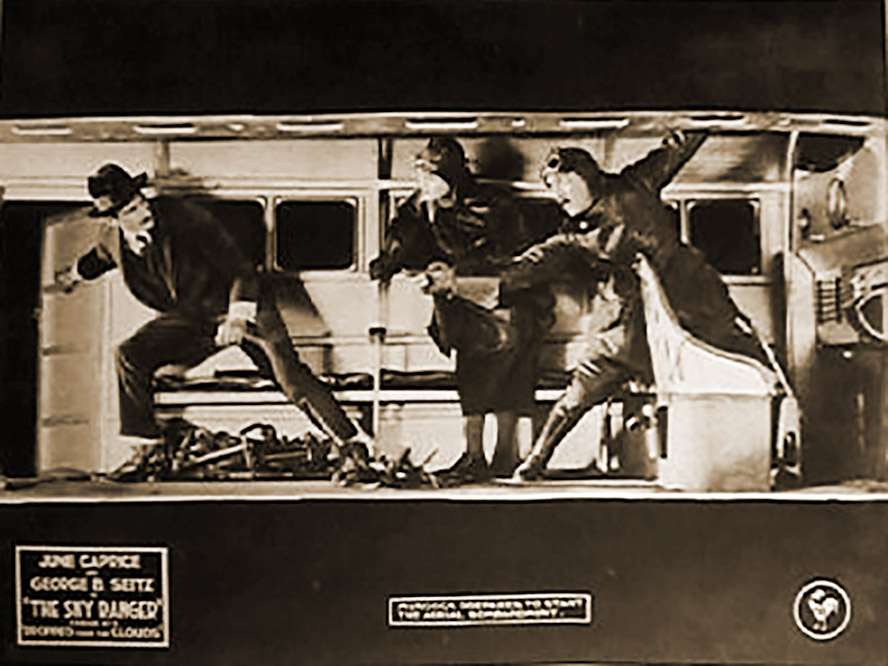 Photograph: Silent Era image collection.


The Sky Ranger


(1921) American
B&W : Serial / 31 reels / 15 episodes
Directed by George B. Seitz

Cast: June Caprice [June Elliott], George B. Seitz [George Oliver Rockwell], Harry Semels [Doctor Santro], Frank Redman [Professor Elliott], Joe Cuny [Murdock], Peggy Shanor [Tharen], Charles 'Patch' Revada [Bean], Thomas Goodwin (Tom Goodwin) [the butler], Spencer Gordon Bennet, Marguerite Courtot

George B. Seitz Productions production; distributed by Pathé Exchange, Incorporated. / Produced by George B. Seitz. Scenario by Frank Leon Smith. / 15 episodes (two reels each): [1] "Out of the Clouds," released 1 May 1921 (three reels); [6] "The Crystal Prism"; [8] "Dropped from the Clouds"; [11] "The Seething Pool." / Standard 35mm spherical 1.37:1 format. / Working title: The Man Who Stole the Moon.

Comedy-Drama.

Survival status: The film is presumed lost.

Current rights holder: Public domain.

Keywords: Rooftops - Serials - Snipers - Transportation: Aircraft

Listing updated: 5 March 2012.

References: Lahue-Continued pp. 94, 95, 224, 288 : Website-IMDb; Website-SerSq.